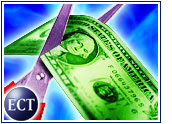 Hewlett-Packard on Tuesday reported a US$2 billion third-quarter net loss, which it attributed to a weakened economy and costs associated with the $18.7 billion Compaq merger in May. The company booked revenue of $16.5 billion for the quarter ended July 31st, compared with $18.2 billion in second-quarter revenue on a combined company basis.
Excluding merger-related and other costs, HP reported a profit of $420 million, compared with a profit of $320 million in the year-ago period.
Despite the expected losses, HP CEO Carly Fiorina remained positive about the company's long-term prospects against rivals Dell and Sun. "We're hitting all our integration milestones and are on track to meet our second-half targets," Fiorina said, pointing to $2 billion in new long-term revenue secured during the third quarter.
The Best Medicine
Analysts said integration is the best medicine for the new HP. Once the integration is completed, HP can fully realize the synergies the merger promised.
HP executives said the company is on track to save $500 million in 2002, $2.5 billion in 2003 and $3 billion in 2004 as a result of synergies. Those savings will be achieved through workforce reduction, less expensive direct procurement, integrated key financial IT systems and reduced facilities square footage, according to the company.
Product Transitions
But it is not all about synergy. A large part of HP's challenge is communicating new product road maps to the sales force and its customers, according to Yankee Group analyst Robert Perry.
"HP still has a lot to do in terms of explaining where all their products fit," Perry told the E-Commerce Times. "They've done a pretty good job in laying it out, but it's a big job."
Beyond hardware, the merged company must leverage and extend its core software assets to remain competitive in a tight market. "What HP has to prove is that it can use partner software as well as its own software to create bundles that make sense," Forrester analyst Joshua Walker told the E-Commerce Times.
And HP president Michael Capellas said the most difficult product transitions were in the enterprise space, although he noted, "We made tough decisions in all areas, from servers to storage to software."
Silver Linings
Aside from stagnant IT spending and the near-term financial impact of the merger, HP execs seem to have something to smile about. The company's server and storage business sustained market leadership during the third quarter, and its services business continued to contribute to the bottom line. Managed services revenue increased 2 percent sequentially and 7 percent year-over-year as customers turned to outsourcing to reduce IT costs.
HP's imaging and printing business segments also posted strong year-over-year revenue, gross margin improvements and record operating margin. And operating losses in the personal systems group, which includes PCs, shrank to $198 million from $372 million.
Return to Profitability?
Executives said they are comfortable with analysts' revenue forecasts of $17.44 billion, or 22 cents per share, for the fourth quarter.
They added that the company is focused on returning to profitability by making additional cost reductions, ramping direct sales capabilities, and driving further penetration in the small to medium business market.
HP stock climbed to $14.70 in after-hours trading but settled down to $14.30 this morning.