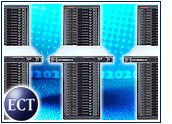 As the post-merger decision-making process shifts into high gear, Hewlett-Packard (HP) on Monday announced a new software strategy designed to leverage its core assets. The technology titan will focus future development on extending three software suites: HP OpenView, HP Utility Data Center and HP OpenCall.
Company executives said the decision was based on HP's intellectual property and customer acceptance of those three products.
"HP has come full circle on its software strategy," Forrester Research analyst Joshua Walker told the E-Commerce Times, noting that the company has returned to its 1998 strategy, which spawned a middleware agreement with BEA Systems.
"It is a practical approach to sticking to what they are good at — application and systems management," Walker said.
Web Services Focus
Besides planned enhancements to its HP OpenCall and IN7 telco middleware platforms, the company is focusing on extending the capabilities of two other software suites.
The new strategy is heavily tied to Web services, an area in which HP was an early leader with its e-speak product that leverages heterogeneous integration.
Now, HP will extend the capabilities of OpenView, its infrastructure management software, which supports a new generation of Web services and tighter integration between business and operations management.
The company also will invest in broadening the capabilities of HP Utility Data Center, a program designed to virtualize global infrastructure resources that includes support for next-generation Web services.
Real-Time Dashboard
"Our plan is to extend the software management capabilities in HP OpenView and HP Utility Data Center to create what we're calling a 'management fabric' that will radically reduce the complexity of enterprise and service provider operating environments," said Nora Denzel, senior vice president and general manager of HP's software global business unit.
"We want to provide businesses with a 'real-time dashboard' for making smarter, faster decisions, enabling them to make better use of their technology and information-based assets," Denzel added.
Discontinued Lines
The new HP also plans to discontinue the HP Netaction Application Server, HP Netaction Web Services Platform and HP Web Services Registry products in its middleware portfolio.
Denzel said the decision will allow HP to differentiate and add value in areas in which the company has assets, experience and leadership, such as telco middleware and end-to-end voice and data service management.
To be sure, the competition is standing up and taking notice of HP's shifting software strategy. But analysts said they do not expect to see near-term market impacts as a result of the move.
Ripple Effects
Walker said a ripple effect is inevitable, but time is a factor: "The new strategy gives HP time to figure out what new products they are going to develop and launch to create those ripple effects."
One key to HP's success going forward is continuing its alliances with Microsoft and BEA. HP's discontinuation of Netaction leaves the company dependent on those vendors for Web services tools.
But that is not necessarily a bad thing.
"HP is the Switzerland in the Web services market," Walker said. "They should be able to dust off some of those skills and go after this market in a way that IBM, Sun and Microsoft can't because they are so entrenched in one of the two technologies."
IBM, Sun and Microsoft were not immediately available for comment.