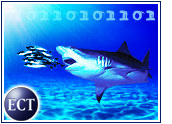 Executives at Oracle have announced their company is on the lookout for potential acquisitions and even briefly considered buying longtime partner and struggling tech giant Sun Microsystems.
Oracle CEO Larry Ellison said his company determined the Sun deal would not make sense because the two companies work well as partners. "I thought about it," he told shareholders at Oracle's annual meeting. "I think it would be a bad idea. I don't think Oracle should go into the hardware business."
In addition to saying Oracle will extend its offer to buy PeopleSoft into 2004 — expressing commitment to the deal despite what could be a bruising review by regulators — Ellison said the company is prepared to tackle other acquisitions as well. "As the industry matures and we grow larger and larger, we will have to grow through a combination of developing new products and buying other companies," he noted.
Good for the Goose
That sentiment seems to be echoed across the software world. Also on Monday, WebMethods announced plans to buy three smaller firms in a bid to diversify its business. WebMethods specializes in making disparate software programs work together.
Together, the deals — for portal firm DataChannel, business intelligence software maker Dante Group and software integration firm Mind Electric — are worth an estimated US$32 million.
For its part, IBM has announced a deal to buy the software assets of privately held CrossAccess, a move that will make it easier for Big Blue's customers to access information stored in mainframe databases built by competitors.
Citing research showing that some 60 percent of corporate data resides on mainframes and that business integration software will be a $10 billion market within three years, IBM said it will move quickly to knit CrossAccess into its existing software lines, including its DB2 Information Integrator product.
Terms of the deal were not disclosed, but IBM said the pact could close by the end of this month.
Bridging the Gap
IBM spokesperson Sean Tepton told the E-Commerce Times that the acquisition is significant because customers want to be able to access information stored in mainframe databases.
The company released DB2 Information Integrator earlier this year to tackle that same issue of bringing legacy data into current business applications. Now, the acquisition of CrossAccess software takes another step toward that goal by bridging the gap to older, non-IBM mainframe databases, such as those made by Computer Associates and others.
"If you think of the large companies, that might represent a lot of data," Tepton said. "That information doesn't go away."
He added that nearly all of CrossAccess' employees will be offered jobs at IBM's Silicon Valley software lab.