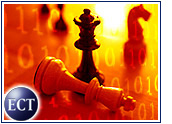 PeopleSoft's board of directors has rejected Oracle's latest takeover bid, saying the sweetened US$9.4 billion deal still undervalues the software firm.
The directors said they arrived at the decision that the offer is "inadequate from a financial point of view" after consulting with financial advisers including Goldman Sachs and Citigroup. They also cited the continued scrutiny of regulators in the United States and Europe, who have yet to give the proposed takeover their blessing.
"PeopleSoft has a better plan for stockholders," said CEO Craig Conway, citing PeopleSoft's recent acquisition of J.D. Edwards and a lengthy string of quarters in which it surpassed earnings expectations.
The vote came less than a week after Oracle surprised many observers by raising its all-cash offer for PeopleSoft from $19.50 to $26 per share, upping the total value of the deal to $9.4 billion. At the time, the new offer represented a nearly 20 percent premium on PeopleSoft's stock price.
"Oracle's offer does not begin to reflect the Company's real value," Conway said. "Don't underestimate the significant additional value PeopleSoft can create once the disruption from Oracle's hostile activities has ended."
Replacement Theory
Oracle quickly shot back a response, saying PeopleSoft's rejection of the offer highlights the need to replace PeopleSoft's directors. Oracle plans to run a slate of potential directors and is gearing up for a proxy battle at PeopleSoft's annual shareholder meeting, scheduled for March 25th.
Analysts say the new proposed deal, which Oracle CEO Larry Ellison described as a "final offer," may signal the battle is coming to a head and could finally reach some sort of resolution. That could be welcome news for PeopleSoft, which has claimed Oracle's various offers and actions are attempts to disrupt its business.
Vox Populi
Gartner analyst Betsy Burton said the audience for the new offer was not the board of directors but shareholders at large.
"The timing of the deal and the fact that it is substantially higher suggest this might be the end-game strategy to convince shareholders," Burton told the E-Commerce Times. Shareholders have only until the end of Tuesday to register to vote at the annual meeting.
"This might win them more support at the ballot box, but the real issue of regulatory approval remains out there, and it's hard to see there not being some more problems on that front," she added.
Burton said that although customers can move forward with purchase decisions about PeopleSoft, Oracle and J.D. Edwards products, all such decisions are complicated by the uncertain atmosphere.
Future Imperfect
Oracle spokesperson Jim Finn said PeopleSoft's board is ignoring what he described as PeopleSoft's "uncertain future as a stand-alone company." He noted that PeopleSoft has suggested its first-quarter earnings may not meet analysts' expectations.
"Oracle believes that its offer is full and generous," Finn said, urging shareholders to consider backing Oracle's slate of directors.