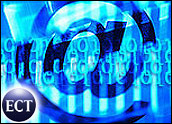 Hoping to squelch Oracle's hostile takeover attempt and alter the face of the software industry, PeopleSoft has released what it says is evidence that Oracle's proposed purchase is intended primarily to harm the smaller company's business.
Although PeopleSoft expanded its lawsuit against Oracle's US$7 billion bid earlier this month to include claims that Oracle set out to harm PeopleSoft's customer relationships, most of that lawsuit was initially sealed until PeopleSoft released excerpts.
Included in the new evidence is a batch of internal Oracle e-mails referring to the deal and its ramifications. In one, an employee says the original bid, which has since been upgraded and extended repeatedly, "certainly wounded PSFT (PeopleSoft) … this is going to take PSFT some time to recover."
In another e-mail, an employee seems to suggest the damage to PeopleSoft would help drag down its share price, making the original $16-per-share offer more appealing. PeopleSoft shares consistently have traded above that price. In early trading Thursday, the stock was at $17.44.
Phasing Out?
The new evidence also renews debate over Oracle's true intentions regarding its long-term plans for PeopleSoft products. While it initially said it would phase them out, it also has promised long-term support and integration help.
Among the evidence is a memo from an Oracle vice president saying the company "really won't be continuing their product line or combining operations."
Oracle could not immediately be reached for comment on the e-mails. In the past, the company has said it is committed to closing the deal, despite legal hurdles thrown up by PeopleSoft. In fact, earlier this week, Oracle announced it would host another online "town hall forum" for PeopleSoft customers to detail its plans for handling the changeover if the acquisition is finalized.
Who's Getting Hurt?
Gartner analyst Betsy Burton said that while Oracle always has had a reputation for bold, drastic moves, and PeopleSoft seems to have suffered from customer nervousness amid the turmoil, the ongoing series of disclosures could have a long-term impact on Oracle's image as well.
"The longer this drags out, especially if it doesn't end well for Oracle, the more damage it does to the company's reputation," Burton told the E-Commerce Times. "Whether or not it hurts their business along the way is another question."
Meanwhile, even though Oracle is merely in a holding pattern, awaiting U.S. Department of Justice clearance to proceed with its takeover bid and a mid-September hearing on lifting PeopleSoft's poison-pill anti-takeover measure, PeopleSoft CEO Craig Conway has taken to describing the deal as dead.
In published reports, Conway has said he no longer spends much time focusing on the Oracle drama.