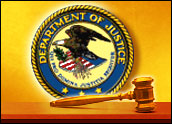 In what could be the beginning of the end of the Oracle-PeopleSoft takeover saga, staff attorneys at the U.S. Department of Justice (DoJ) have recommended blocking the deal because it raises antitrust concerns.
The DoJ informed both companies late Tuesday of the recommendation, which will be used by the assistant attorney general in making a final decision. DoJ spokesperson Gina Telamona told the E-Commerce Times that a final ruling is expected March 2nd, although it is possible that additional information could be sought before then.
PeopleSoft had no immediate comment on the news but no doubt welcomed the recommendation. Its board of directors has repeatedly cited antitrust concerns, in both the United States and Europe, as a reason for shareholders to resist Oracle's increasingly attractive cash offers for their shares.
Last week, Oracle bumped its offer to US$26 per share, or about $9.4 billion in total, only to have PeopleSoft's board of directors again urge shareholders to hold tight to their stock.
Wiggle Room
Oracle said the recommendation is just one piece of an informational puzzle that the DoJ will use to render a decision. While the staff attorneys generally focus on matters of fact and law, the appointees who make the final decision often are more sensitive to the political ramifications of any ruling.
"This process simply is not complete," Oracle counsel James Rill said. Rill, a former assistant attorney general himself, said he has seen several cases in which the DoJ set aside staff recommendations in making its final decision.
Verbal Jousting
Oracle spokesperson Jim Finn took the ruling as an opportunity to open a new front in the verbal battle between the two companies, saying the entire takeover saga began with an overture by PeopleSoft CEO Craig Conway about a close partnership with Oracle.
Conway has since taken to lobbying for regulators to step in and kill the deal and has been sharply critical of his Oracle counterpart, Larry Ellison.
"While no decision has yet been made, Oracle believes this merger will eventually be approved," Finn said in a statement. Oracle did not indicate whether or not it will appeal any unfavorable ruling.
Ticking Clock
Analysts already have begun to speculate that the agency may seek to block only parts of the deal or may require Oracle to sell off certain product lines or other PeopleSoft assets before it greenlights the deal. Regulators could spell out steps Oracle would have to take to avoid legal attempts to block the deal.
The review process included close examination of the competitive marketplace in several key business software issues, including interviews with competitors such as IBM, Meta Group analyst Ron Hanscome noted.
"The details of any decision may determine whether there's another act or two to play out," Hanscome told the E-Commerce Times. "It may be that there's still another year's worth of court proceedings before we get a final answer."
More than eight months have elapsed since Oracle's offer for PeopleSoft took the business software world by surprise. Analysts have advised current and prospective customers of both companies and of J.D. Edwards, which PeopleSoft acquired in the interim, to proceed with caution but not to let the upheaval scare them away from buying.
"At some point, it won't be worth it for Oracle to keep trying to overcome hurdle after hurdle," Hanscome added.