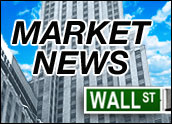 A modest rebound in crude oil prices and the prospect of earnings season getting under way left Wall Street mostly in the red today.
Stocks were up briefly when trading began, thanks to the long drop in oil prices. However, by the close, the Dow Jones industrial average was down 12.78 points, or 0.12 percent, to 10,448.56.
Ford Motor
The Nasdaq lost 7.23 points, or 0.36 percent, to close at 1,992.12. The S&P 500, meanwhile, managed to eek out the tiniest of gains, climbing 0.01 points to finish at 1,181.21.
Pressuring blue chips was a sharp sell-off in shares of Ford Motor Co., which saw its stock drop to a new yearly low after announcing it would fall short of profit goals for both this year and 2006. Ford shares have been under pressure for some time and lost another 5 percent today to US$10.44.
Among tech stocks, shares of Microsoft and Gateway were both higher after the companies reached a settlement in a long-standing antitrust case. Microsoft agreed to pay $150 million and to help market Gateway computers as part of the deal.
Oil Makes a Comeback
Oil prices reversed a five-session downward trend, with crude futures gaining 39 cents to close at $53.71 per barrel on the New York Mercantile Exchange. The rise came despite a pledge by OPEC nations to examine their output levels and consider increasing them in May.
The U.S. dollar, meanwhile, gave back some of the slow and steady gains it has made against both the yen and euro, losing ground to both currencies today after making headway last week. Analysts cited upcoming data on the trade deficit as the main culprit.