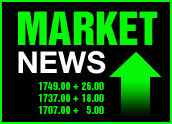 Despite a mixed bag of monthly reports from major retailers, stocks moved higher today, with the Dow Jones industrial average posting its fourth straight day of gains.
The Dow was up 60.30 points, or 0.58 percent, to 10,546.32. The Nasdaq posted the best percentage gain on the day, rising 19.65 points, or 0.98 percent, to 2,018.79, while the S&P 500 was up 7.07 points, or 0.60 percent, to close at 1,191.14.
Oil Prices Lower
The main catalyst appeared to be relief about oil prices. Crude futures moved lower for the fourth day in a row, losing $1.74 per barrel to $54.11 on the New York Mercantile Exchange.
However, investors looking for good news could also point to the Labor Department report on weekly unemployment claims, which fell by 19,000 last week, the largest decline in two months, to 334,000.
On the other hand, the batch of retail reports released as the markets opened failed to paint a clear picture of the health of the consumer side of the economy. Bad weather was blamed for keeping a lid on sales and causing misses by Wal-Mart — which also lowered its April sales forecast — Kohl's and May Department Stores. On the upside, Target beat benchmarks, as did Abercrombie & Fitch Co.
Slower Growth
Overall, the International Council of Shopping Centers said its index of 67 retailers showed a 4.1 percent increase in March sales, slower growth than in February but within the range of forecasts.
Even the stock that was the subject of the most negative news of the day managed to finish in positive territory. Pfizer shares gained 4 cents to $26.90, despite the company announcing that it would withdraw its Bextra painkiller from the market at the behest of regulators because of increased risk of heart attack.