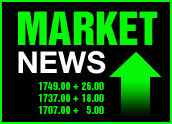 Oil prices today backed off new record highs, providing a boost to stocks, which moved higher across-the-board.
The Dow Jones industrial average gained 16.84 points, or 0.16 percent, to 10,421.14, thanks partly to a boost from beleaguered insurer AIG, which rebounded nearly 5 percent on word that New York Attorney General Elliott Spitzer was open to a civil settlement of inquiries into AIG's accounting practices.
Oil Price
The Nasdaq also moved higher, gaining 6.26 points, or 0.32 percent, to 1,991.07. The S&P 500, meanwhile, rose 3.20 points, or 0.27 percent, to close at 1,176.12.
Stocks had started off by plunging after oil prices spiked over US$58 a barrel, a new intraday high. However, selling took over on the New York Mercantile Exchange and oil ended down 26 cents for the day to $57.01 per barrel.
In addition to oil prices, there will be plenty of other news for investors to digest this week. On Wednesday, Federal Reserve Chairman Alan Greenspan testifies before the Senate Banking Committee, while Thursday will bring sales reports for March from several major retailers.
Merger Activity
Once again, there should be plenty of merger activity to keep investors busy. Today, ChevronTexaco said it would buy oil explorer Unocal for $16.4 billion.
Morgan Stanley, meanwhile, was reported to be shopping its Discover Card division amid executive upheaval at that company, and a new bidding war seemed possible for MCI, which said it would again talk with Qwest about its attempts to outbid Verizon.