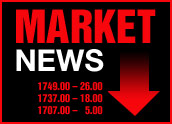 The latest bout of economic uncertainty — brought on at least in part by a reduced forecast from Apple — caused investors to send stocks sharply lower today.
By the close, the three major averages were at new lows for 2005 and their lowest levels since early November.
Worries About Economy
The Dow finished at 10,278.75, a loss of 125.18 points, or 1.20 percent, on the day. The Nasdaq lost 27.66 points, or 1.40 percent, to close at 1,946.71. The S&P came to rest at 1,162.03 after giving up 11.76 points, or 1 percent.
Worries that early earnings reports showed signs of a weakening economy, coming on the heels of a report earlier in the week that retail sales for March were well below forecasts, were blamed for the drop.
Late yesterday, Apple easily beat estimates for the first quarter and said profits were up six-fold over a year ago. However, it issued guidance that was below top estimates, causing its stock to slide as much as 9 percent on the session and taking many tech stocks lower with it.
Also rattling the Dow was worry about General Motors. The blue chip saw its stock dip to an 12-year low even after one analyst firm noted unsubstantiated bankruptcy rumors had begun to circulate about the No. 1 U.S. auto maker.
Jobs Data Strong
The plunge came despite good news on the jobs front. The Labor Department said first-time unemployment claims dropped by 10,000 last week, lowering the four-week average to 338,000, a level that gives economists some comfort that the jobs market continues to improve.
Oil, however, showed signs of shaking off its recent slump, which had brought prices to seven-week lows after setting record highs less than two weeks ago. Today, crude futures traded higher by 91 cents to $51.13 per barrel.