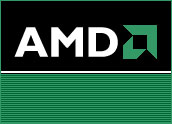 Number two chipmaker Advanced Micro Devices (AMD) has announced plans to spin off its Spansion flash memory business, which has been a drag on the parent company's performance amid an industry-wide glut of the technology.
AMD registered for an initial public offering of the Spansion unit, saying the stock sale could raise as much as US$600 million. AMD will see only part of the benefit, with Fujitsu — which formed Spansion in a joint venture with AMD two years ago — also standing to gain.
Processor Focus
AMD said the spinoff would have other advantages as well, principally by letting AMD focus on growing its share of the PC chip business against rival and market leader Intel.
In a conference call announcing its first-quarter earnings — which showed the flash unit denting earnings and eating into profit margins business-wide — CEO Hector Ruiz suggested that freeing the PC chip business to operate and report on its own will display its strength.
"Our processor business is not just growing, it is accelerating," Ruiz said.
AMD focused heavily on the flash business with the Spansion unit, seeing massive opportunities for the technology, which is used in everything from cell phones and digital cameras to DVDs and MP3 players. However, an over-supply sitting in the warehouses of device makers and aggressive moves into the business by Intel and others have pushed prices lower.
That, in turn, has hurt AMD results. In the first quarter, flash sales were off 29 percent to $449 million, and the unit reported an operating loss of $110 million, bringing its total loss in the last six months to $149 million. That pushed AMD to a quarterly loss of more than $17 million compared to a modest profit a year ago, with revenue down just slightly to $1.23 billion.
Investors seemed torn on the value of the spinoff, initially sending AMD shares higher. By midday today, the stock was down about 3 percent, however, to $16.57
Margin Call
In addition to being a way to help assure profits on a regular basis, the move to focus on operating chips is a strategy cheered by many analysts, who note that AMD has displayed strength in the area in recent quarters, occasionally eating modestly into Intel's market lead. AMD has also managed to get more advanced chips to market ahead of Intel in some cases. AMD led the way on 64-bit chips, for instance, though Intel quickly closed the gap.
Morgan Stanley predicts that AMD will be able to grow its share of the chip market from 18 percent today to 25 percent within two years. The path for that growth has been cleared by alliances with PC makers — many of whom had produced boxes loaded exclusively with Intel at one time — and related moves that give AMD a much higher profile.
In fact, AMD is expected to roll out a dual-core chip later this month, before Intel reaches the market with its own version. The technology is intended to allow a computer to be more powerful by enabling each processor to be dedicated to separate tasks. That's seen as important as computers attempt to perform more operations — such as virus scanning or desktop searching and indexing — in the background as a user performs other tasks.
The two-core approach is also a recognition that recent advances in processor speed and power will be difficult if not impossible to match on a single processor chip and many analysts believe the chip maker that can better execute its strategy for the technology might reap huge benefits.
Gartner analyst Martin Reynolds told the E-Commerce Times that while being first alone won't guarantee AMD any market share gains — and Intel's dual-core chip is not far behind anyway — being first to market does help establish its credibility in the dual-processor market.
"Performance-seekers will want dual cores on their machines," Reynolds said. "It has the potential to provide a lot more bang."
Other Changes Afoot
AMD also announced an internal restructuring yesterday, consolidating its microprocessor businesses into what it calls a "more customer-focused" organization known as the Microprocessor Solutions Sector.
The group will be responsible for pushing 64-bit chips and other solutions and will be overseen by two executives, one responsible for all business and financial and research aspects and another focusing on strategy and marketing efforts.
Research firm Piper Jaffray noted that the Spansion spin-off provides other benefits for AMD, including an almost immediate reduction in its debt load. The firm, which upgraded AMD shares after the IPO announcement, can also divert research-and-development dollars that might have gone into the flash business directly into the task of advancing processors.