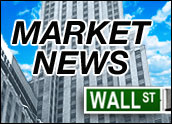 Nearly US$40 billion worth of mergers failed to ignite a broad-based stock market rally today, with investors mulling the latest batch of economic news as well as the corporate hookups.
Merger news should have dominated Wall Street on a day when Symantec agreed to buy Veritas in a deal worth $15 billion and Johnson & Johnson said it would plunk down more than $25 billion to buy Guidant.
Instead, fresh evidence of the massive trade deficit and a drop in housing starts might have served as a reminder to investors of the bigger picture.
Economic Tea Leaves Mixed
In the end, stocks were mixed, with the Dow finishing in positive territory, gaining 14.19, or 0.13 percent, to close at 10,705.64. The other two major averages finished in the red, however, with the Nasdaq losing 16.40, or 0.76 percent, to 2,146.15 and the S&P 500 shedding 2.56 points, or 0.21 percent, to end at 1,203.16.
Some of the economic data released today was upbeat, most notably the weekly unemployment filings, which fell to a five-month low last week of 317,000. Forecasts expected the number to be around 340,000.
However, countering that data was a surprising plunge in the number of housing starts, which dropped 13.1 percent in November to the lowest monthly rate since May.
Also, the trade deficit continued to nag. The Commerce Department reported that the current account deficit, which is the broadest measure of trade that includes various kinds of investments, climbed to a record high of $164.7 billion in the third quarter.
Treasury Bonds
The economic data, particularly the jobs number, hit treasury bonds hard, with 10-year notes seeing their largest one-day drop since July. Traders there might be concerned that a heated job market would spark inflation, which would erode the true value of treasury notes over time.
Oil, meanwhile, held steady, losing just a penny on the session, closing at $44.18 per barrel in New York.