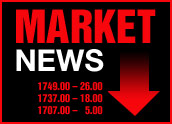 U.S. stocks retreated today as investors reacted to comments made by Federal Reserve Chairman Alan Greenspan that suggested U.S. trade deficits could be putting the nation's economy at long-term risk. Major indices lost ground in the face of a resurgence in oil prices and because of concern about the weak dollar.
At a conference in Frankfurt, Germany, Greenspan spoke of the current U.S. trade deficit and its effects in weakening the dollar, saying that the situation made forecasts challenging.
The current U.S. deficit stands at a record US$166.2 billion for the second quarter, surpassing the previous quarter's $147.2 billion figure.
Predictions Tricky
"It seems persuasive that, given the size of the U.S. current account deficit, a diminished appetite for adding to dollar balances must occur at some point. But when, through what channels and from what level of the dollar," he said.
"Regrettably, no answer to those questions is convincing. This is the reason that forecasting the exchange rate for the dollar is problematic," Greenspan said.
Stocks began showing signs of investor worry early in the day. At the close, the Dow Jones Industrial Average posted a triple-digit loss of 115.64 points ending at 10,456.91. The Nasdaq Composite Index shed 33.65 points to 2,070.63. The S&P 500 Index fell 13.21 points to end the session at 1,170.34. The Russell 2000 gave back 8.62 points, to 613.44.
Losers, Gainers
Tech and drug stocks were among those hit hard during the session. Novell shares dove 7.6 percent to $6.59 after an analyst downgraded the stock after its release of fourth quarter earnings.
Shares in pharmaceutical companies AstraZeneca PLC and GlaxoSmithKline slipped on safety concerns over key drugs they sell. AstraZeneca lost 2.26 percent to $39.43, while GlaxoSmithKline dipped 1.9 percent to $42.77.
A trio of media stocks were among the day's few gainers. The Walt Disney Company added 1.1 percent to $26.66 on solid Q4 results, and Sirius Satellite Radio surged 9.5 percent to $5.17 on news that former Viacom president Mel Karmazin will be its new CEO.
TheStreet.com gained 9.2 percent to $4.39 on rumours of its potential status as a takeover target in the wake of Dow Jones' purchase of Marketwatch.
Meanwhile oil prices rose as high as $48.60 a barrel today, with December crude settling up $2.22 at $48.44. January crude was up $2.51 to $48.89.