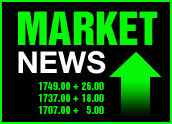 U.S. stocks posted gains today, with tech stocks especially strong, after a sharp drop in oil prices helped offset concern about the relative weakness of some key earnings announcements.
Oil prices hit a new record high in early trading, breaking the US$55 level and apparently setting off a wave of profit-taking that helped take prices down 2 percent by the end of the trading session. Oil futures trading on the New York Mercantile Exchange closed at $53.67, a loss of $1.26.
That in turn helped stocks climb back out of negative territory, where they were driven shortly after the opening bell today on concern about corporate earnings.
The Dow gained 22.94, or 0.23 percent, to finish at 9,956.32. The Nasdaq had the best day — closing at 1,963.52, a gain of 25.02 points or 1.31 percent. The S&P 500 also rose, gaining 5.92 points, or a half-percent, to 1,114.02.
Watching Earnings
Diversified materials giant 3M, which makes and sells everything from Scotch tape and Post-it Notes to films for flat-panel displays, fell short of earnings forecasts even though sales were up 6 percent to $4.97 billion in its third quarter.
The company, which is seen by some analysts as a fair gauge of overall economic conditions because it is exposed to so many market sectors, lowered its fourth-quarter outlook more than expected.
Other companies provided mixed signals to investors. Number one toymaker Mattel said profits were down more than 5 percent on weaker demand for some of its best-known products.
More Earnings
But Internet security concern Check Point Software Technologies posted earnings that bested expectations on the strength of a 25 percent increase in licensing revenue.
Earnings are likely to dominate the headlines for most of the week, with several more heavily watched companies due to report. eBay will report Wednesday and Google, Microsoft and Sears are due to make results public on Thursday.