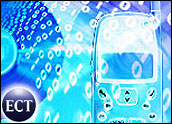 Universal Music Group and mobile software developerMotricity have joined forces to create "30303," a new multimedia service that will allow users to access music, mastertones, photos and other content simply by texting artist-related keywords to 30303 from their cell phones.
UMG will promote the 30303 shortcode — which will enable Cingular, Sprint and T-Mobile subscribers to purchase recordings by such popular artists as Mary J. Blige, The Killers and Busta Rhymes, along with related content — through various marketing venues, including CD cases, print, television and radio advertisements, and artist Web sites.
Connecting Fans and Content
The new shortcode lets fans of emerging artists and non-mainstream genres discover new music offerings more easily, according to Adam Flick, vice president of marketing for Universal Music Mobile-US.
There's "tremendous consumer demand" for mobile music content, he claims.
Emerging Artists to Benefit?
As a general rule, only the most popular artists have been promoted "on-device" up to now.
However, the 30303 shortcodes — which are relatively easy to remember — will allow UMG's record labels to create targeted promotions for specific fan groups, and then sell the promoted content through mobile devices.
UMG is "leveraging the mobile channel to provide new artists with increased exposure," said Ryan Wuerch, CEO of Motricity.