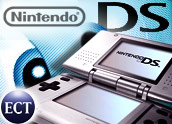 Nintendo has announced that it will be tapping the rainbow to bring two new colors to its DS Lite line of gaming hardware. Onyx and Coral Pink will join Polar White as available colors for the company's DS Lite players starting September 13.
"The new colors just add another element of fun, allowing people to 'personalize' who they are by the color, or colors they pick," said George Harrison, Nintendo of America's senior vice president of marketing and corporate communications.
The new colors come as sales numbers for Nintendo's DS-compatible games continue to surge.
New Super Mario Bros. recently hit the 1 million unit mark after only 12 weeks in the United States, making it the first DS title to move that quickly in a similar time frame.
Meanwhile, two educational games — Brain Age: Train Your Brain in Minutes a Day and Big Brain Academy — have since their introduction sold 4 million and 2 million units worldwide, respectively.