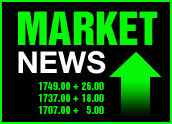 A bullish outlook for the third quarter and the rest of the year from Ford Motor Co. helped give stocks a lift to close out the week, but pressure from a spike in oil prices pared the gains.
Ford said its financial services unit was largely responsible for the improved outlook, rather than boosted car sales in key markets such as the U.S. In fact, Ford separately announced it would lay off around 1,500 workers at its UK-based Jaguar division.
Ford wasn't alone in providing good earnings news, as the parent company of the Carnival cruise line reported its best quarter in terms of profit in company history.
Qualcomm also boosted its forecasts — but that was tempered by the company saying it might have to change that forecast downward if it determines it must change its accounting of license fees. That accounting consideration caused Qualcomm stock to drop and served to keep Nasdaq gains down.
Countering Optimism
General Electric shares rose 2 percent, to $34.22, after Prudential Equity Group rated its shares a buy in the face of an expected rebound in the company's energy business.
Countering the optimism, though, was Nortel Networks, which said it would miss its already lowered third quarter forecast.
By the close, the Dow had added 39.97 points to finish the week at 10,284.46. The Nasdaq gained 6.01 points to close at 1,910.09 and the S&P 500 was up 5.05 points to 1,128.55. That was the S&P 500's highest weekly close since June 27. For the week, the Dow was down slightly while the other two averages saw modest gains.
The aftermath of Hurricane Ivan hit the oil futures markets Friday, as word that production from the Gulf of Mexico region remained low after shutdowns caused by Ivan's approach earlier in the week.
Oil Prices
Oil prices broke above the $45 level before closing at $44.61 per barrel. The U.S. Minerals Management Service said the hurricane caused producers to curb output by 1.4 million barrels a day, or nearly 4 million barrels by the end of yesterday.
Speculation was that Ivan's near-miss brush with the key oil areas might keep oil prices high until the threat of additional hurricanes subsides. Hurricane season unofficially ends on November 30.