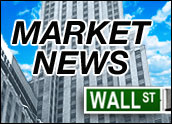 Oil prices hit yet another record high today and once again helped send most U.S. stocks lower.
Oil futures trading in New York hit a high of US$51.29 per barrel today, gaining more than $1, before easing slightly to close at $51.09. Oil futures trading in London also blew past previous record prices.
The latest spike was blamed on lingering supply concerns, heightened by the approach of winter and the long stretch of time during which Gulf of Mexico production fell below usual levels due to Hurricane Ivan.
Oil concerns were blamed for sending stocks lower late in the Wall Street session. After trading flat most of the day, the Dow finished at 10,177.68, down 38.86 points. The Nasdaq managed to hang on to modest gains, rising 3.10 points to 1,955.50. The S&P 500 fell less than a point to 1,134.48.
Chilly Outlook
Tech stocks took a hit after chipmaker Advanced Micro Devices became the latest in the sector to warn that third-quarter revenues would not meet targets. AMD said sales would fall below second quarter levels as well because of poor performance in the flash memory sector.
Rivals IBM and Hewlett-Packard found themselves heading in different directions after the same broker upgraded Big Blue but downgraded its outlook for HP.
Flu Vaccine
Also sending a chill down the spines of investors was news that the supply of flu vaccines in the U.S. would be cut in half after the British government suspended operations at a major supplier of the vaccine.
Regulators in the UK halted operations at Chiron Corp., the second-largest maker of flu vaccine worldwide after discovering manufacturing problems at one of the company's plants.
Chiron is under a government order not to produce the vaccine for three months and saw its Nasdaq-listed shares tumble more than 17 percent, or $7.69, in trading today.