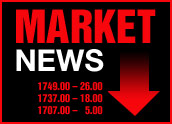 Markets tumbled today after two reports bore bad news for the U.S. economy and oil prices again soared to record highs.
The Labor Department reported that weekly jobless claims rose by 15,000 last week to 352,000 and said the four-week moving average of claims had also reached a seven-month high.
Separately, the Commerce Department issued a report showing that the U.S. trade deficit rose to US$54 billion in August, the second highest level on record, and that the country's deficit with China rose to record levels as Americans continued to consume electronics and other products from overseas. High oil prices were cited as one reason for the ballooning trade gap.
Oil, Insurance
Investors reacted by dumping shares across the board. The Dow lost 107.88, or more than 1 percent, to close at 9,894.45. The Nasdaq held up only marginally better on a percentage basis, losing 17.51 to end the session at 1,903.02. The S&P 500 lost 10.36 to 1,103.29.
In addition to the economic data, oil was again a factor for investors, who watched crude futures race toward the $55 level. Futures trading in New York finished the session at $54.76, a gain of $1.12 for the day.
The latest surge came after the Energy Department reported that heating oil inventories fell by 1.2 million barrels last week, to 50 million barrels, a full 10 percent below where they were a year ago.
Also hurting the stock markets was news out of New York that the state's attorney general, Eliot Spitzer, filed suit against several major insurance companies in an effort to correct what he described as a system set up to reward underwriters who provide kickbacks to insurers.
Antitrust Fraud
Spitzer said two executives from AIG agreed to plead guilty to antitrust fraud. Shares of AIG lost 11 percent on the day and others stocks in the group suffered similar losses.
All the news overshadowed the latest earnings reports, which were mixed. General Motors missed forecasts and lowered its outlook, while CitiGroup and Bank of America both narrowly beat expectations.