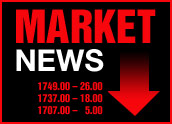 Worries over the latest spike in oil prices and weakness in some key stocks overcame any optimism fueled by strong earnings from companies as varied as Intel and McDonalds today as stocks traded lower across the board.
Blue chips took the hardest hit, with the Dow falling 74.85 points to 10,002.33.
The Nasdaq, which traded in positive territory most of the day on the strength of earnings reports from Intel and Yahoo, lost just 4.64 points, finishing the session at 1,920.53. The Standard & Poors 500 fell 8.19 points to close at 1,113.65.
Oil Price
Weakness in the metals sector dragged the Dow lower, with aluminum giant Alcoa falling more than 3 percent for the day.
That and oil price concerns were enough to overcome strength in shares such as McDonalds, which gained 4 percent after saying it would likely exceed third-quarter targets, and Intel, which climbed 3.5 percent after edging out lowered forecasts.
Sabotage Worries
Oil prices climbed sharply after reports hit that a 30-inch oil line in eastern Mexico had been the site of an explosion, news that instantly sparked fear of a terrorist attack.
Oil futures trading on the New York Mercantile Exchange gained US$1.13 to close at $53.64 per barrel, exactly where they finished trading on Monday.