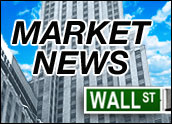 U.S. stocks were hit hard out of the gate today by a spike in oil prices, but recovered late in the session after oil prices dipped.
The Dow wiped out nearly all of its early losses, posting a dip of 4.79 points for the day to 10,077.18, after being down more than 65 points in morning trading.
The Nasdaq fell 3.59 points to finish the session at 1,925.17 and the S&P 500 lost 2.55 to close at 1,121.84.
Oil spiked to yet another record high in early trading, breaking the US$54 barrier on the New York Mercantile Exchange. But late in the session, oil futures fell sharply. Futures closed down $1.13 on the day at $52.51 per barrel.
Earnings Season
Analysts said the correction was inevitable after the long run-up in prices and might prove to be only a temporary pause as the underlying reasons for price spike, including heavy demand from China and other emerging economies, remain.
The first in what will be a closely examined wave of earnings reports contained mixed signals at best. Johnson & Johnson shares rose 2.7 percent after it posted third-quarter results that met analyst expectations in both the revenue and profit lines.
Merrill Lynch managed to outpace analyst estimates even though profit fell compared to last year on lower levels of stock-trading activity.
More Reports Tomorrow
However, State Street Corp. fell well short of expectations and saw its stock tumble more than 6 percent as a result.
Some 30 companies are poised to report their earnings tomorrow, including the New York Times and Apple.