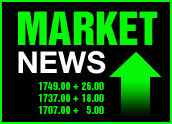 U.S. stocks rallied today after the Labor Department reported jobs data that solidly beat analysts' expectations. Meanwhile, modest gains in oil prices and a record low for the dollar against the euro kept investors cautious.
Gains across the board capped off a mixed week that started off with uncertainty leading into Tuesday's U.S. Presidential election. Investors were treated to a positive report showing U.S. nonfarm payrolls increased by 337,000 in October — nearly double consensus estimates of approximately 175,000. The number was the largest reported since March, and many took it as a beacon of strength for the economy overall.
Indices Gain
The Labor Department said that the number was higher in part because of a hiring surge for reconstruction and cleanup related to recent hurricane activity in the Southeast. However, the department also revised figures for the months of August and September up by a combined 113,000. Average hourly earnings were up 0.3 percent as expected, while the unemployment rate was up slightly from 5.4 percent to 5.5 percent.
Investors pushed stocks higher for the session, with the Dow Jones Industrial Average up 300 points over the last three days, ending up 72.78 points, or 0.71 percent, today to 10,387.54. The S&P 500 added 4.50, or 0.39 percent, to 1,166.17, its highest level in more than two years.
Tech issues turned in a healthy performance, riding in part on solid earnings reports from several industry leaders, including Nvidia, up 14.5 percent, and Valueclick, up 14 percent at the close. The Nasdaq gained 15.31, or 0.76 percent, for the session to close at 2,038.94.
Oil Subdued, Dollar Down
Meanwhile, crude oil futures stayed in check, with prices staying near five-week lows after falling more than four percent yesterday. Crude for December delivery was up 79 cents for the day to US$49.61 a barrel. For the week, prices were off by 4.2 percent.
Also keeping markets at bay, the dollar broke a weakness record today with its value against the euro. At day's end a euro was worth $1.2962, beating its high of $1.2927 reached in February. When it was first introduced in 1999, the euro was worth one to one against the dollar.
Some analysts maintain that the U.S. government might favor a lower dollar for the effect this could have in helping U.S. exports. Others, however, say it could have psychologically damaging effects and reduce international interest in U.S. assets.