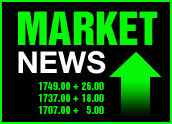 U.S. stocks rallied today as a weaker-than-anticipated unemployment report put investors in a positive mood by alleviating concerns about interest rates.
The Dow Jones Industrial Average added 123.03 points, or 1.16 percent, to close at 10,716.13 while the Nasdaq gained 29.02 points, or 1.41 percent, ending at 2,086.66. The S&P 500 tacked on 1.10 percent, or 13.14 points, to 1,203.03.
Low Unemployment Level
Jobs data from the Labor Department reported early this morning showed a dip in the U.S. unemployment rate from 5.4 percent from 5.2 percent, representing the lowest level since September of 2001. Economists had expected the rate to stay flat, with payroll growth of 189,000. Nonfarm payrolls were up just 149,000 for the month, leaving economists somewhat disappointed.
Nevertheless, the market's reaction indicated that investors saw the data as a possible beacon for the end of a recent cycle of interest rate increases from the Federal Reserve Bank.
Last Sunday's successfully executed Iraqi elections and a slew of positive earnings reports didn't hurt either, with companies such as Time Warner releasing solid numbers for the latest quarter.
Earnings, Oil
Time Warner reported a surge in its fourth-quarter profit that the media behemoth attributed to strength in its America Online, networks and publishing businesses.
The company reported earnings of US$1.13 billion, or 24 cents a share, up from $639 million, or 14 cents a share, in the year-earlier period. Analysts had expected earnings of 16 cents a share. However, investors sent the stock down 11 cents for the session, to $18.05.
Meanwhile, crude oil for March delivery added 3 cents for the session, closing at $46.48 after trading as high as $47.25 a barrel on the New York Mercantile Exchange today. This was down 1.5 percent — or 70 cents — for the week, however, as traders weighed the likelihood that OPEC will change quota levels next month.
At its meeting last week, the organization said that it was leaving its current quota of 27 million barrels per day in place. OPEC plans to re-evaluate the supply and demand scenario in March.