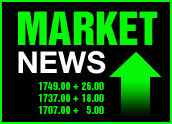 U.S. stock markets made it two straight winning days today as more strong earnings news, including a bullish outlook from Oracle, drove shares higher.
Late selling took some of the zip out of the rally, but stocks closed firmly in positive territory, with the Dow up 37.03 points, or 0.35 percent, to 10,498.59. The Nasdaq had a particularly strong day, rising 26.14 points, or 1.29 percent, to 2,046.09. The S&P 500 rose 5.66 points, or 0.48 percent, to 1,174.07.
Oracle Earnings
The gains came after a rally yesterday that ended with the Dow having its best session of the year so far.
Leading the charge was Oracle, which said its forecasts for the current year and for fiscal year 2006 would be at the high end of Wall Street estimates, driven by subscriber growth fueled by the acquisition of PeopleSoft. Oracle said earnings could raise as much as 28 percent next year.
SBC Communications also turned in a positive report, edging out forecasts. The company also announced it would eliminate 7,000 jobs over time in order to cut costs.
Oil Down, Dollar Too
Oil prices, which seemed poised to take a run at the US$50 per barrel level as soon as this week as anticipation mounts about the January 30 Iraq election, instead retreated on word that energy stockpiles in the U.S. grew more than forecast in the past week.
Crude futures were off 79 cents, or 1.6 percent, to $48.85 a barrel on the New York Mercantile Exchange. Futures had closed at a two-month high in the previous session.
Meanwhile, the dollar continued to struggle, dropping a full percent against the yen and 0.8 percent versus the euro, as currency investors continue to express concerns about long-range issues such as the U.S. national debt.