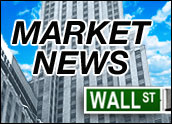 U.S. stocks ended the session on a relatively flat note today, with little news and light overall trading volume heading into New Year's Eve. Despite some positive economic news from the Labor Department, investors appeared to be unmoved, locking in profits before 2004 comes to an end at the close of tomorrow's trading session. The major indices struggled to stay in the black, with the Dow failing to do so, losing 28.9 points.
A positive report from the U.S. Department of Labor showing continued jobs strength helped keep indices close to flat as data showed that first-time jobless claims fell by 5,000 to 326,000 last week. Economists had been expecting a slight uptick in claims to 335,000.
Nevertheless, the Dow Jones Industrial Average slipped 0.27 percent, or 28.9 points, to 10,800.3. However, the Nasdaq Composite Index added 1.34 points, or 0.6 percent, to 2,178, and the S&P 500 gained 0.1 points, or 0.01 percent, to 1,214. The Russell 2000 index of small-cap stocks lost 0.04 percent or 0.28 points to rest at 653.06.
Oil at Bay
The fact that crude oil trading finished for the year today did little to motivate investors.
February crude concluded a volatile trading year for oil futures at US$43.45 per barrel on the New York Mercantile Exchange. This was slightly less than yesterday's closing price of $43.64, when bombings early in the day in Saudi Arabia sharpened concerns about terrorism in the oil-rich Middle East.
Oil trading ended the year at 1 p.m. in New York today, marking an official 33.7 percent annual gain. Nymex crude trading will resume late Sunday, January 2, during the electronic overnight session.
Even with a relative dearth of action today, some stocks showed significant movement. News from Pfizer, Alcoa and Boeing helped keep the Dow in the red for the day. Alcoa was hit with a loss of 1.4 percent, or 0.44 points, to 31.45 after a Lehman Bros. analyst cut fourth-quarter earnings expectations for the company.
Blue Chips Slip
Pfizer fell 0.92 percent, or 0.25 points, to $27.01 on more bad news about its arthritis drug Celebrex. Reports said prescriptions for the drug fell 56 percent in the U.S. last week.
Boeing shares dipped 0.33 percent, or 0.17 points, to $51.90, despite news that Continental Airlines plans to buy 10 7E7 Dreamliners from the company.
U.S. stock markets will be open tomorrow, but many believe the majority of this week's action was over by Tuesday, with traders already looking ahead to January and the earnings reports and pre-announcements that month will bring.