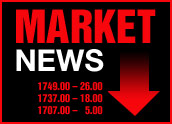 U.S. stocks lost ground today, with all major indices posting losses for the session despite uplifting merger news from consumer products giants Gillette and Procter & Gamble and positive reports from significant tech and aerospace players including Boeing, Honeywell and Microsoft.
The Dow Jones Industrial Average lost 40.2 points, or 0.38 percent, to end its fifth straight week of losses at 10,427.2. The Nasdaq Composite Index shed 11.32 points, or 0.55 percent, to close at 2,035.83. The S&P 500 Index lost 0.27 percent, or 3.19 points, to end the week at 1,171.36.
Merger, Earnings News
The day's lackluster performance was in spite of news of one of the largest consumer services mergers in several years with the US$57 billion deal announced by Gillette and Procter and Gamble, whose combination will result in a juggernaut expected to pull in more than $60 billion in annual sales. P&G ended the day down 2.11 percent to $54.15 while Gillette tacked on 12.9 percent to $51.60.
In addition, Dow component and tech bellwether Microsoft posted record revenue for its second quarter, reporting that sales were strong across its various businesses and predicting the trend will continue.
The company's quarterly earnings more than doubled to $3.46 billion as revenue rose 7 percent over last year levels to $10.82 billion. Shares managed a 0.27 percent gain for the day to close at $26.18
Cautious, Anxious
Meanwhile, Honeywell reported a 4 percent rise in its fourth-quarter earnings to $419 million and raised its outlook for 2005; and Boeing reported a $7.2 billion deal with six Chinese airlines to buy 60 of its new Dreamliner passenger jets.
Both stocks saw losses, however, with Honeywell down 0.94 percent to $35.69 and Boeing down 2.06 percent to $49.92.
Investors' cautious behavior might have been due in part to disappointment with a subdued GDP report, coupled with anxiety about Iraq on this, the last trading day before this weekend's historic elections.
Slower Growth
The Commerce Department released a report this morning that said that in the final quarter of 2004, the economy grew at a 3.1 percent annual rate, down from a 4 percent rate reported in the third quarter. The latest quarter's performance was weaker than the 3.5 percent growth rate predicted by economists.
Even so, the report showed that GDP increased by 4.4 percent in 2004, up from 3 percent in 2003. This marked the best rate of growth since 1999, when GDP was up by 4.5 percent for the year.
Crude oil for March delivery, meanwhile, shed $1.69 per barrel to $47.15 as the Organization of Petroleum Exporting Countries prepares to meet this weekend and indications were that it would make no changes to quota regulations at this time, leaving its output quota at 27 million barrels per day.