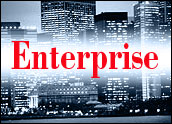 Purchases by businesses kept sales of personal computers growing in the third quarter, although at a slowed rate, and Dell extended its lead over its top rival for the vendor crown, according to two new reports.
Both IDC and Gartner reported strong growth in PC sales in the quarter, although at a slower rate than in previous years. IDC said 44.2 million units were shipped in the three-month period, for a growth rate of 11.9 percent over the third quarter of 2003. Gartner, which uses a slightly different method of counting that also includes no-brand-name white boxes, put sales at 46.9 million units and growth at 9.7 percent.
The numbers suggest a long-expected slowdown in sales growth is taking hold, but also that at least modest growth could be possible well into the future as businesses, from small firms to large enterprises, have picked up the slack left by consumers, who carried much of the weight for the PC industry last year.
IDC analyst Loren Loverde said price discounts and strength in certain segments helped keep sales strong, including sales outside the U.S. and sales of notebook and other mobile computers. Surprisingly, he said, growth in Asia was lower than expected.
Consumer Purchases
IDC raised its 2004 forecast to call for 14 percent growth, but said at the time that sales in the U.S. were lagging well behind the rest of the world in terms of growth.
Loverde said consumers will need to step it up heading into the key fourth quarter, when home PC sales are typically the strongest, in order for PC vendors to see growth rates that will keep profits strong.
"We would like to see more consumer activity going into the fourth quarter," Loverde said.
Gartner said shipments came in slightly below its forecasts of low-double-digit growth and were dragged down by weaker sales, particularly of desktop machines, in the U.S., where overall sales grew 5 percent, compared to predictions of 8 percent.
Gartner Vice President Charles Smulders said back-to-school sales, a key component of the third quarter each year, were lifted by notebook shipments, but offset by "much weaker" demand for desktops.
Still Number One
Both research firms said Dell retained its crown as worldwide sales leader, with Gartner noting that some areas of growth were particularly impressive for Dell. For instance, Dell saw sales growth of nearly 37 percent in Europe, where Hewlett-Packard has traditionally been very strong and where it remains the market leader.
Dell saw its market share rise to 16.8 percent, from 15.2 a year ago, while HP managed to hold steady, according to Gartner's numbers, meaning that Dell picked up market share from lesser competitors.
IDC, however, said Dell's gains appeared to come at the expense of HP directly. IDC said Dell's market share rose to 18.2 percent, from 16.9 percent a year ago, while HP's fell slightly, from 16.6 percent last year to 16.2 percent market share this year.
In both rankings, IBM came in third, with slightly less than 6 percent of the market, followed by Fujitsu and Toshiba.
Looking Ahead
Analysts noted that comparisons become more difficult heading into the end of 2004 and early 2005, meaning that growth rates will likely slow.
Both firms seemed to suggest that the third quarter sets the stage for single-digit growth rates in 2005. IDC, for instance, has predicted overall market growth of 8.7 percent.
That in turn will put pressure on PC vendors to execute their strategic and business plans perfectly in order to preserve or even grow market share and maintain profits in a market of slowing growth. HP ran into its share of difficulties in the past year that resulted in some top executives being fired, but went on to report record sales figures for its second quarter.
Smulders said 2005 will be another year of strenuous competition among the top vendors. "HP and Dell are going to be vying for those last one or two points of market share for the foreseeable future," he added.