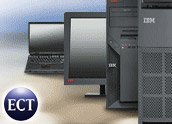 A surge in demand for personal computers from business users has prompted research firm IDC to raise its forecast for overall sales for 2004, with the firm now predicting that sales will grow more than 14 percent over last year. However, sales in the U.S. are actually falling short of targets.
IDC said a 17.2 percent jump in commercial shipments of personal computers in the second quarter prompted it to raise its outlook. The second quarter saw PC shipments to businesses rise at the fastest rate since mid-1999, the firm noted.
IDC now predicts that 176.5 million PCs will be shipped this year, 14.2 percent ahead of 2003 levels. IDC had originally called for growth of around 13 percent.
The up-tick in commercial sales will more than compensate for an expected slowdown in consumer sales, which met IDC's forecast for the second quarter but is expected to see growth slow to just 9 percent for the second half of this year, compared to 20 percent growth a year ago, when consumer sales single-handedly boosted the PC industry.
Falling Back
Loren Loverde, director of IDC's PC tracking reports, cautioned that the data is somewhat skewed by very strong sales in Western Europe and other regions, which helped mask disappointing sales in the U.S.
"Growth in the United States missed forecasts and slipped into single-digits," Loverde said.
IDC Vice President Roger Kay said the dichotomy reflects the maturity of the U.S. market, which is an impediment to rapid bursts of growth, as well as what he called "uncertainty in both political and economic spheres [which] has led us to revise our forecast modestly downward."
Loverde added that some of the growth data benefits from comparisons to weaker sales performances in earlier years and that going forward, growth trends will tend to level out.
IDC slightly lowered its own 2005 forecast, calling for growth of 10.5 percent, followed by single-digit growth for at least two years afterwards.
Growing Down
Gartner analyst Charles Smulders noted that PC growth remained strong in the second quarter even amid reports of serious sales slumps in other technology areas, including software and data storage.
"The PC business has remained on track, with relatively few of the bumps the other sectors have seen," Smulders told the E-Commerce Times.
In terms of vendors, the surge in commercial sales is likely to lift all ships, giving no clear cut advantage to either HP or Dell, which have swapped the top worldwide sales ranking several times in recent years. Though HP has traditionally been more dominant among commercial buyers, Dell has seen its commercial business grow more rapidly recently, Smulders said.
Analysts have long been predicting a surge in business PC spending due to the inevitable need to replace older machines, with many companies having last had major replacement programs in place ahead of the Y2K scare in 1999. ostephanie
The current replacement cycle was somewhat slow to materialize, however, something Smulders and other analysts attribute to a lack of must-have technology from software and hardware vendors alike.
For instance, Smulders noted that sales of the Tablet PC have not yet met initial expectations from the industry while traditional notebook and PC sales have remained more robust.