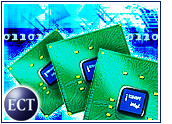 Intel and AMD, the two largest makers of computer chips, have moved to cut prices, setting the stage for PC prices to drop in time for the peak holiday sales season.
Both chipmakers previously had stated their intention to lower prices, a move designed to clear inventory of older chip models in anticipation of next-generation product releases. Intel had expected its Prescott chip to be ready for sale by the holidays, though reports now say it could be delayed until early 2004.
Though it is often difficult to gauge the impact of processor price cuts on computers, Intel's reductions represent as much as a 35 percent discount on Pentium 4 chips. AMD is expected to detail its price-cut schedule later this week.
After Burner
Additional price cuts could be just what the doctor ordered for PC sales, which showed signs of stabilizing earlier this year and are starting to clock strong growth rates again, according to IDC analyst Loren Loverde.
PC shipments grew nearly 16 percent in the third quarter compared with the same time frame in 2002, Loverde told the E-Commerce Times, driven largely by sales of notebook computers. That trend, which saw sales power past forecasts by more than 5 percent, likely will continue through the end of the year, providing the PC industry with a welcome boost.
"Consumers are being brought to the table by wireless features and the entertainment features of computers and are being turned into buyers by low prices," Loverde added. "Lower prices across the board will almost certainly help PC makers end the year on a high note," with even a small drop in prices boosting sales considerably.
Ready and Willing
Some computer hardware makers already have signaled their willingness to cut prices on certain product lines.
For example, in a competitive move against Hewlett-Packard, Dell said in August that it would cut prices on many of its enterprise products. Because of its streamlined corporate structure and direct-sales model, Dell is widely considered the computer maker that is best positioned to cut prices and remain profitable.
PC makers also have indicated they will focus on non-PC products this holiday season, with both Dell and HP unveiling peripherals, printers and mobile devices as struggling PC maker Gateway focuses on home electronics, such as high-end plasma television sets.
Feeling Bullish
Although chip price cuts are usually scheduled well in advance, Intel may have gotten a jolt of extra courage from its recent string of strong earnings reports.
Earlier this month, the company beat both its own and Wall Street's earnings forecasts and raised predictions for the usually slow third quarter, citing growth in almost all product categories.