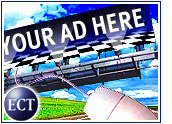 Seeking an advantage in its brutal battle with Dell for dominance in the consumer computing market, Hewlett-Packard has announced it will launch a US$300 million worldwide ad campaign aimed at the average technology user.
The push is designed to support HP's August release of nearly 150 different consumer products, ranging from digital cameras to photo-printing paper. The theme of the campaign, "You + HP," is designed to build on the companys ongoing efforts to reach enterprise decision-makers and will focus heavily on HP's strength in imaging and printing.
"The digital photography movement is on the verge of becoming the newest, hippest form of self-expression and communication," Allison Johnson, senior vice president at HP, said in a statement. According to HP, the main message is that high-quality photography need no longer be complex, thanks to advancements in technology.
The first wave of print ads ran in U.S. newspapers today, including a 24-page color insert in USA Today. Throughout the campaign, television and print ads will feature the work of amateur photographers equipped with HP equipment.
HP says the TV ads will be cinema-quality short films aimed at the largest television audiences during prime-time sitcoms and weekend football games.
Catching Virus
In addition to the massive media buy powering the campaign, HP also hopes to infuse a grass-roots marketing element, establishing a community weblog where consumers can post and manage digital photographs.
IDC analyst Danielle Levitas said HP is looking to grab consumers' attention quickly, knowing that competitor Dell likely will make a push of its own ahead of the holiday buying season.
"Consumers may not see much of a difference between the two, except that HP has such a strong history in printing, which obviously plays a role in digital photography," Levitas told the E-Commerce Times. "Being first out of the gate may give them a leg up."
Earlier this week, Microsoft unveiled the latest version of its media-center PC operating system, hoping to further ignite consumer interest in computers that do far more than word processing and Web surfing.
"A lot of companies are banking on consumers buying new machines and accessories this holiday season," Levitas said.
Price Wars
HP and Dell have been neck-and-neck in terms of overall PC sales ever since HP completed its acquisition of Compaq in May 2002. But the race between the two rivals has featured some interesting twists of late.
In August, HP announced weaker-than-expected financial results, saying a decision to cut prices had hurt its bottom line. Dell grabbed the opportunity, stepping forward less than 24 hours later with price cuts on many of its products, from consumer PCs to servers.