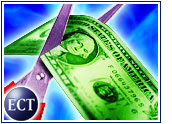 Putting the efficiency of its direct-sales model to the test and seeking to capitalize on the recent woes of its main rival Hewlett-Packard, Dell Computer has announced it will cut prices on many of its products. Specifically, the company said it plans to slash price tags by up to 22 percent on enterprise, small-and-medium business and consumer products.
The move came on the same day HP announced disappointing earnings, missing analysts' targets and saying it suffered fiscal losses in its PC division as a result of price cuts it made to entice consumers to buy new machines during back-to-school season.
Pushing the Envelope
Analysts said the move is a test of how far the superior efficiency of Dell's direct-sales model can be pushed. The company has turned in a lengthy string of strong quarters, largely because of cost savings realized through its build-to-order model and sales organization.
"The efficiency of the Dell model has enabled us to continually reduce prices and return savings to the customer," Dell president and COO Kevin Rollins said in a statement. "All Dell customers, from large corporations to home users, can benefit from the price reductions we are announcing today."
Putting on the Squeeze
"They apparently think there's more room to squeeze the prices down without hurting margins," IDC analyst Roger Kay told the E-Commerce Times. "If it works, it will put enormous pressure on their competitors."
The timing of Dell's move, Kay added, leaves little doubt that the company is going for the jugular against HP. "HP blamed its own price cuts for hurting its bottom line," he said. "Now Dell is basically saying it can do what HP did, and then some, without the same results."
Dell's price cuts could spell even worse news for other competitors, such as Gateway, which has struggled to reduce costs quickly enough to match Dell's competitive threat. And the nature of Dell's cuts indicate the company is hoping to grab a bigger slice of the enterprise market at a critical time. Many analyst firms are calling for the start of a meaningful recovery in IT spending late this year and into 2004.
Savings Serenade
Just how much customers will save depends on what they buy. Enterprise purchasers will find that Optiplex desktop machines have had their price tags reduced by just US$50 — but high-end Precision workstations with all the bells and whistles can be had for $550 less.
Data center customers can take advantage of the biggest price drops, saving 22 percent, or about $2,800, on four-way server configurations featuring Dell's PowerEdge 6600 server models. Prices on other servers have been cut 10 percent.
Consumers will reap smaller savings, such as 6 percent discounts on Dimension desktops and 3 percent on Inspiron notebooks. Prices on peripherals, such as printers and projects, have been reduced at least 10 percent, Dell said, meaning its lowest-priced inkjet printer now costs just $79.