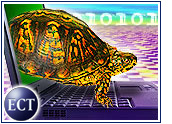 Despite a relatively strong first quarter, sales of personal computers will grow more slowly than expected this year and next, according to a report from IDC. The research firm said worldwide PC shipments rose 3 percent in the first quarter, with sales of US$42.2 billion, but what it called "limited economic improvement" forced it to temper its forecast for the next 18 months.
PC shipments are now forecast to grow 6.3 percent in 2003 and 10.3 percent in 2004. Both figures are slight downward adjustments from IDC's last forecast, issued earlier this year.
Because of price pressures, the total value of PCs shipped actually will decline more than 2 percent this year to $169 billion, according to the report, before rebounding in 2004.
This Time for Sure
IDC analyst Roger Kay told the E-Commerce Times that sales to enterprises in the United States were down in the first quarter, but his expectations are still that larger businesses will start to make major equipment purchases later this year, with a burst of growth next year.
"Businesses of all sizes will start to undertake upgrades as the economy improves," Kay said. "The time frame for when that starts has been pushed back repeatedly because of economic uncertainties."
He noted that a string of events from the Iraq war to the SARS epidemic has delayed the uptick, which now seems poised to take hold this fall and last into 2004.
Weakness Across the Board
However, corporate sales make up only one part of the PC market, which also has seen lagging consumer demand and weakness in the public sector, since budget cuts at public schools and universities have hurt many computer makers, IDC analyst Loren Loverde said.
Consumers and businesses will regain their confidence and buying momentum at around the same time, he added.
Around the globe, IDC said sales will drop in Japan, largely due to weaker consumer confidence, and that SARS will have a "limited effect" on sales in the Asia-Pacific marketplace but will not stop a resurgence of demand by year's end.
Waiting It Out
Leading PC makers are searching for a variety of ways to weather the storm.
For example, Dell has announced it will continue to work with EMC on enterprise-grade storage devices; Gateway on Monday released a new family of desktop computers aimed at high-powered business users; and HP rolled out a point-of-sale computer designed to replace traditional cash registers at retail stores.