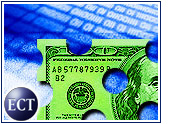 The market for personal computers will not grow as quickly as previously expected during 2003, primarily because government budget woes will deflate spending in that key sector, a new report says.
IDC is changing its growth forecast for PC unit sales to 6.9 percent for 2003, down from a December prediction of 8.3 percent growth. The number of units sold is now expected to rise by only 10 million, to 145.6 million.
But this reduced forecast is still brighter than the past couple of years have been. PC unit sales rose 1.4 percent in 2002 and fell more than 4 percent in 2001.
New and Improved
The report's authors said a recent infusion of new products into the PC market, notably multimedia PCs and portable machines built on the tablet platform, helped boost the market in the fourth quarter of 2002, with a 3.7 percent rise in sales compared with the year-ago period.
Those new products will continue to help the market recover, but probably not until late this year or early next. IDC predicts double-digit growth will return in 2004, with an 11 percent sales jump forecast.
"The launch of new form factors, such as the media PCs and tablets, has added some zest to the PC market," said IDC analyst Roger Kay. "Further out, we expect the impact of these new technologies to be more substantial."
Government Rules
IDC said government sales held up well during 2002 but will drop off more quickly than earlier expected. "The decline in government and education spending is not unexpected, but it is accelerating, and the impact is showing on PC demand," analyst Loren Loverde confirmed.
The government slowdown is expected to be sharpest in the United States, even though consumers remain active buyers of PCs and business spending has begun to thaw.
IDC's prediction is in line with a recent forecast from Gartner for 6.6 percent overall growth in PC unit sales. Gartner analyst George Shiffler told the E-Commerce Times that war worries already have dampened the economy enough to keep PC sales from recovering anytime soon.
"We can't have a meaningful recovery in the PC market without a general economic upturn, Shiffler said. "We still sees millions of machines that are due for replacement, but we also see buyers waiting as long as possible to make that purchase."
Nervous Nellies
The report comes against a backdrop of increasing concern among investors and analysts about the year ahead for PC makers and those that rely on the computer market, such as chipmakers. On Thursday, for example, HP was forced to take the unusual step of issuing a clarification to an SEC filing after the computer maker's shares tumbled amid an otherwise rising market.
HP CFO Bob Wayman said the company wanted to clear up what he called "market confusion" over its quarterly report, which contained some revisions of cash flow figures from earlier reports. Although cash flow was adjusted downward by 18 percent, from $791 million to $647 million, HP said it still has a strong cash position.
Seeking to further soothe investors, HP also said that less than 45 days into the second quarter, sales were up 3 percent over a year ago.
Slowdown Ripple Effect?
IDC's Loverde told the E-Commerce Times that the public-sector slowdown will affect some players in the PC market more than others.
"The largest players in the PC market are, not surprisingly, the largest in the public sectors as well, so in that regard they would be roughly evenly affected by slower PC spending," said Loverde, who co-authored the report.
In fact, the top tier of public sector sales largely mirrors overall sales leaders. Dell led the pack, followed by HP, IBM, Legend, Apple and Gateway. For overall sales, however, Apple ranked tenth and Gateway twelfth.
"That suggests that Apple and Gateway may be more directly affected by slower public-sector spending," Loverde said. Legend also is likely to feel the impact but will be cushioned by its extensive market exposure in China, where IDC expects public-sector growth to remain above 15 percent.
Home Front
Elsewhere around the globe, demand was slower than expected in Europe last year and may continue to lag in 2003, IDC said.
In Japan, on the other hand, government and business spending actually propped up consumer sales that remained weak. The market is expected to grow by nearly 3 percent this year, ending two straight years of declining sales.