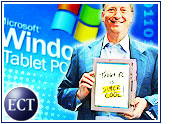 After several years and hundreds of millions of dollars spent on development, Microsoft has launched its Windows XP Tablet PC platform. The company claims Tablet PCs will help revolutionize computing by allowing users to enter and manipulate data with a pen-like stylus.
Microsoft released the software platform in New York City alongside several of the 20 hardware makers whose Tablet PCs hit the market at the same time.
The software giant reportedly spent US$400 million developing the platform and has set aside another $70 million to promote its adoption. But Microsoft must overcome consumer reluctance that once turned Apple's Newton computer, which also featured handwriting recognition, into a flop.
The launch also is occurring amid an economic slowdown and tight IT budgets at most companies, factors that analysts say may delay meaningful adoption of the Tablet for a year or more.
Necessity or Accessory?
Microsoft chairman Bill Gates has long touted the Tablet PC, which can integrate and manipulate text and voice input in addition to pen-and-ink input, as a catalyst for a computing revolution that will grow into the most popular form of personal computer over time.
At the launch, Gates called the Tablet a "dream that I and many others have had for many years," dating to the founding of Microsoft. He also gave a nod to the earlier generation of microcomputers from the early 1990s, calling it "almost painful to recall the result."
"The idea of tablet is a natural idea," Gates said. "It's obvious to get down to this form factor."
Gates added that he already has begun to spread the word about the Tablet by using it to send handwritten e-mail, which can be read by any e-mail program."For the last few months, this has been the machine I use," he said, noting that his test resulted in several last-minute product improvements.
Software Driven
But some time may elapse before enough applications are available for the tablet to make it a must-have item.
Several software markers have announced products that use the pen-and-ink system, such as Groove Networks' collaborative chat software, Corel's Grafigo graphic design software, and speech-recognition programs from Philips and One Voice. Some vendors are offering downloads of their products for free to help spur early adoption of the Tablet.
But Gartner Dataquest vice president Leslie Fiering told the E-Commerce Times that even those businesses most likely to adopt Tablets will take a wait-and-see approach, possibly buying small batches of the devices for testing purposes before making major investments.
In fact, Fiering said, Gartner analysts believe Microsoft mispositioned its announcement by focusing on availability of Tablet PC hardware. "This is more about creating extensions to operating systems," Fiering noted. "It's about new media types, new ways of doing input. The hardware does have to change, but we think Microsoft might have gotten it backwards."
Price Points
Fiering added that prices may have to come down slightly before consumers will consider the Tablet as an alternative to a traditional notebook computer.
Still, Gartner predicts early adopters will drive Tablet PC sales, with about 50,000 units to be snapped up this quarter and another 425,000 in 2003, when they will account for 1 percent of all mobile computer sales.
"It's going to come slowly," Fiering said. "They'll be the new kind of executive jewelry, and the digital seekers will purchase them early on. But most people will want to wait and see."
By 2007, Gartner estimates, more than 35 percent of all notebooks sold will feature screen digitizers and a convertible or removable keyboard design.
Microsoft has told analysts it expects to sell between 500,000 and 1 million copies of the Tablet software over the next year.
What's the Difference?
The host of Tablet PC devices being launched in conjunction with Microsoft's software release all share common traits. They have swiveling screens that can be written on with a pen-like stylus, and most have either no keyboard or one that can be folded out of the way.
Prices range from $1,699 for a basic HP model to $2,500 for more advanced versions with wireless capabilities. Some Tablet makers have included larger screens or more advanced wireless functions to distinguish their products amid the sea of similar offerings.