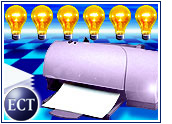 Dell plans to introduce a new line of consumer and business printersthis week, launching an attack on rival Hewlett-Packard where HP's defensesare strongest.
Dell has made significant strides against HP in the year since the Compaq merger wasconsummated, leapfrogging ahead of its number-one foe in the race for personal computersales and posting gains in server and storage sales. But HP's printer business has always been one of its strongest market segments, in terms of both sales and profit margin.
"The printer segment was traditionally one that HP didn't have to worrytoo much about," Forrester analyst Rob Enderle told the E-Commerce Times."They've always had competition, but the threat from a company that canalso supply customers with all their other computing needs is a new wrinkle."
Do It Direct
However, Dell spokesperson Jess Blackburn said the company entered the printer businessnot as a competitive response to HP's Compaq purchase, but because it believes its direct sales model will work for peripherals as well as it does for PCs.
"We think we can provide he same kind of customer experience that weprovide on the PC side," Blackburn told the E-Commerce Times. "The earlyresponse seems to support that. But in the long run, that means having avariety of products and price points available."
New Products, Prices
Dell's rollout will include a laser printer, an inkjet model and acombination printer/scanner/copier, boosting the company's printer productline, which debuted this spring after months of rumors and speculation, toseven models in all. Printer maker Lexmark, long a distant second to HP,will produce the devices.
The network-ready laser printer will target enterprises and will carry a price tagof US$999. Meanwhile, the inkjet model, with a ticket price of $99, will targetprice-conscious consumers, as will the all-in-one machine, which is expectedto sell for $89.
So far, according to Dell, its printers have sold better than initial projectionspredicted last year.
Spreading Out
The effort by Dell to gain a foothold in another market comes asthe PC industry braces for another slow year. Several recent forecastshave predicted low-single-digit sales growth for 2003, followed by moremarked improvement next year.
Dell is not the only major manufacturer that has diversified its product linesto alleviate dependence on the lackluster PC market. Gateway has targeted thehome-electronics market with its line of televisions, and HP has made expansionof its services business a major theme of its post-merger growth strategy.
In addition, Dell, Gateway and HP all are rolling out new versions of handhelddevices this week, timing their releases to coincide with Microsoft's upgrade ofits mobile-device software.
"Companies are going to wring whatever growth they can out of theirexisting markets, but they all realize the PC market isn't going to supplymuch of a boost in the near term," Enderle said. "The smart companies arethe ones that don't sit back and wait for it to come to them."