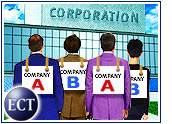 In macro terms, the hostile takeover has been a common, if generally reviled, tactic throughout human history. But does this art of war hold up over the long term in the business world? Are there times when such shotgun marriages turn out to be the right decision for the parties involved? Amid the Oracle-PeopleSoft-J.D. Edwards melee, now seems like the right time to ask this pressing question.
Albert Pang, director of enterprise applications research at IDC, likened hostile takeovers to soap operas. However, he said, they sometimes can represent the best course of action.
Looking back at IBM's acquisition of Lotus Development Corporation in 1995, Pang told the E-Commerce Times that Lotus management initially resisted IBM's advances but then yielded after a short while. In that case, Lotus' decision to merge with IBM saved it, since if it had remained independent, Microsoft would soon have devoured it.
Hostile Motives
Dr. Katherine Jones, managing director of enterprise business applications at Aberdeen Group, told the E-Commerce Times that high-tech companies seek to acquire competitors for one of three primary reasons: to obtain that competitor's customer base; to eliminate competition; or to acquire the competitor's technology.
In the case of Oracle and PeopleSoft, Oracle CEO Larry Ellison has stated that his company essentially will eliminate PeopleSoft as an entity if it completes the intended purchase. In response, PeopleSoft CEO Craig Conway has called Oracle's actions "atrociously bad behavior."
Pang said PeopleSoft's proprietary technology likely was the lure that motivated Oracle to launch its bid. He noted that Oracle has had problems with the technology used in its own ERP software. By incorporating features from PeopleSoft's competing suite of applications, the result could be a killer set of ERP applications — and a great opportunity for PeopleSoft shareholders.
The Ice Cream Fallacy
However, Jones expressed skepticism that plundering PeopleSoft could increase Oracle's customer base.
"We should note that there are very few unhappy or disloyal PeopleSoft customers" that would be amenable to switching to Oracle, she said. "There's no, 'Oh, the chocolate's gone? I'll take vanilla,' in this space. It just doesn't work that way."
Jones added that many PeopleSoft customers have access to PeopleSoft's source code and could manage for another seven to eight years without switching.
In addition, former PeopleSoft customers that do replace their ERP and CRM applications might choose to go with rival SAP, rather than turning to the company that put their first choice out of business.
"A lesson for the world [is that] when you are in the process of building your customer base, the one thing you can't ever afford to lose is the trust and loyalty of your customers and the trust and loyalty of your consumer public at large," Jones said.
Good Intentions, Poor Results
Richard Peterson, chief market strategist at Thomson Financial, differentiated between hostile takeovers, in which a board of directors rejects a suitor's offer, and unsolicited takeovers, which are not sought but not actively opposed either.
Peterson told the E-Commerce Times that the IBM-Lotus merger was initially classified as hostile until IBM sweetened the deal. Then it turned into a "friendly" merger.
However, he said, the business landscape is littered with good intentions and poor results, and the majority of M&A deals are ultimately withdrawn.
In the case of Oracle and PeopleSoft, Jones said that even if PeopleSoft's shareholders approve Oracle's bid, the U.S. Department of Justice (DOJ) might not. Antitrust concerns could prompt the DOJ to tell Oracle and PeopleSoft "to pick up their toys and go home," she noted.
It looks as if some time will elapse before Oracle's bid definitively succeeds or fails. For better or worse, the eventual result will calm the waters, but for now, there is a storm brewing for customers of all three ERP giants involved.