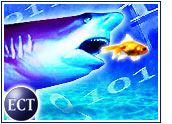 A spike in Sun Microsystems shares has fueled long-simmering speculation that the once-mighty tech firm may be the target of an acquisition by a larger rival.
After trading at US$70 late in 2000, Sun shares fell as low as $2.34 late last year and have traded below the $8 level for a full year. On Friday, however, the shares gained 12 percent to close at $3.75. Activity cooled in early trading Monday, with Sun stock down less than 1 percent to $3.72.
Is the Price Right?
Forrester Research analyst Rob Enderle said he believes Sun's shares have reached levels at which a takeover is a distinct possibility, since the company's technology is still highly regarded in the industry. He speculated that only three firms, Hewlett-Packard, IBM and Dell, would be in a financial position to make such a move. Sun's market cap is about $11.8 billion.
The sudden rise in Sun's stock Friday, coupled with higher-than-usual volume, reignited speculation, Enderle told the E-Commerce Times.
"The price might be right, and there is still a big market share to be had there," he said. "Sun still has a lot of fans."
Calls to Sun seeking comment were not immediately returned.
Sun Block
Meanwhile, other analysts said although a buyout is possible as long as Sun's share price remains low, it may be a long shot. After all, Sun does not fit neatly into the business model of any major tech firm that could afford to acquire it. Still others said a planned trade of a large block of Sun stock, rather than a pending takeover announcement, could explain the run-up in the company's stock price.
In fact, some say Sun is growing less desirable as a takeover target because of moves it has made while trying to adjust to the new high-tech environment. The company has seen its market share erode in some segments in recent quarters, a sign that rivals are winning the war for customers.
Some customers have turned away from Sun's proprietary servers in order to embrace open source, while others have opted for the flexibility of Windows-based Intel-powered servers.
Server Slippage
According to Gartner, Sun's server market share slipped to 4.9 percent in the first quarter from 6.3 percent a year ago. Year-over-year, Sun was the only major vendor whose sales dropped significantly, posting a 13 percent decline. In comparison, Dell saw a 28 percent increase in shipments, and HP tightened its grip on the market lead with a 29 percent share.
Sun has unveiled numerous innovations in an attempt to jump-start sales, including new quarterly software rollouts designed to eliminate the need for constant patching and updating. The company also cut prices on some of its most popular servers earlier this year.
Waiting Impatiently
Meta Group analyst Daniel Sholler told the E-Commerce Times that Sun is hoping its alternative pricing and rollout strategies will win converts in a market that has become increasingly hostile and competitive during the tech spending slump.
"The companies that are growing are doing it in part by stealing market share from each other," he said. "It's going to be harder for the companies that are lagging unless corporations start spending again."