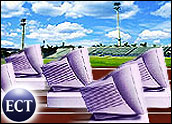 When Hewlett-Packard merged with Compaq just over a year ago, the combined company surpassed Dell in PC sales — but with continued yearly growth rates of more than 20 percent, Dell had regained the top spot by the first quarter of this year. Moreover, just last week, Dell reported its worldwide shipments had increased by nearly 30 percent year over year and revenues had jumped 18 percent in the same time period.
However, Jim McDonnell, vice president of marketing and sales for HP's personal systems group, told the E-Commerce Times that the new HP has no plans to back down even a little bit.
"We think there is a lot of opportunity in this space going forward, and we're going to continue to push," McDonnell said. "From a competitive standpoint, it's going to be a two-horse race between us and Dell going forward."
The HP Way
According to McDonnell, HP's marketing strategy varies by customer segment. The consumer portion of the company's PC business adheres to a retailer-led approach, in which both HP and Compaq computers are sold at such establishments as CompUSA, Wal-Mart, Sears and Radio Shack. HP augments this tactic with sales made through its own Web sites and through kiosks in retailers' stores.
"Retailers are about satisfying a need — I want to go buy something right now. If [the retailers] do not have exactly what I want, I can go to the Web site or kiosk and get it within five days," McDonnell said.
HP's small business strategy is also partner-led, using resellers and agents as the main focus, once again augmented by sales through the company's Web site and by direct-demand generation. As time passes, McDonnell noted, HP's Web site is becoming an increasingly bigger part of its business.
HP-Led Enterprise
On the other hand, HP's enterprise strategy differs from those in its other market segments because it is what McDonnell described as "HP-led."
"We're in there with the total HP solution," he said. "We're not just selling HP PCs, but the full gamut of HP's products and solutions into the marketplace."
He added that HP's enterprise programs range from large outsourcing deals, involving PCs and related products managed by HP for the client, to pure RFP-type opportunities in which the customer merely wants to buy 5,000 PCs.
"We need to go to market every way our customers want because we're [one of] the biggest PC manufacturers in the world," McDonnell said. "So we need to be able to be ambidextrous and have a full gamut of go-to-market programs, which we do."
Getting a Dell
In contrast, Dell vice president Michael Farello told the E-Commerce Times that his company's marketing strategies are quite similar across the entire span of its targeted segments.
"The fundamentals of having the most efficient path by selling direct, having a single point of accountability, building the systems to order, being the low-cost leader and leveraging standards-based technology — those five [qualities] are really the same regardless of whether we're selling to the individual consumer or to the Fortune 500," Farello said.
He added that Dell will continue to build and maintain direct relationships with customers and that those relationships will take multiple forms. According to Farello, the most efficient path to the customer removes any middlemen or resellers that could add costs or jeopardize the quality of Dell's product.
"Continuing to be the low-cost leader, not holding the inventory, not having the channel and having the efficiency of oursupply chain by having direct relationships with our suppliers, all of this ends up benefiting the customer," Farello said.
The Better Way
Which company will prevail? Purely in terms of strategy,Gartner analyst Mika Kitagawa, co-author of a recent report on the U.S. PC market, told the E-Commerce Times that both companies' methods have benefits and drawbacks, so it is hard to determine which one is better.
However, Kitagawa said, Dell's supply chain management (SCM) — its ability to order parts and build systems for its customers — is the best in the industry.
"No other company can approach Dell's efficiency," she noted, saying HP must sharpen its SCM capabilities if it expects to narrow Dell's commanding lead in the United States and overseas.
Merging Possibilities
In addition, Kitagawa noted that last year's merger affected HP's market share, particularly on the enterprise level.
"Unfortunately, both [HP and Compaq] were affected by the merger rumors and lost many [of their large] clients," she said. "Large enterprises are conservative clients, and to avoid risk, many switched from HP to Dell or IBM."
Now that HP has completed its reorganization, she added, the real competition will start. The next four quarters should provide observers with a clear idea of how the two companies compete against each other — and by the beginning of 2004, the winner's identity should become clear.