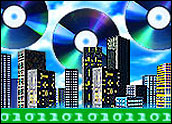 Hewlett-Packard has announced a slew of new products, services and strategies in an effort to capture a greater share of computing business at the world's largest enterprises.
The "Adaptive Enterprise Strategy" rollout coincides with the one-year anniversary of the still-controversial US$19 billion HP-Compaq merger. It includes software aimed at maximizing server and computing power, as well as a revamped enterprise division and other offerings.
Specifically, the new strategy includes three adaptive services: a set of "business agility metrics," or new ways of designing corporate networks to be more flexible; a new line of server virtualization and "self-healing" server software; and a line of upgraded ProLiant blade servers designed and priced to win market share from IBM.
Familiar Ring
The HP effort in some ways resembles rollouts from IBM, Dell and other competitors, whose solutions also promised to help enterprises more closely link IT spending, strategy and business processes and goals.
"We learned a lot about the role of IT as a business accelerator in the process of integrating two large companies," HP CEO Carly Fiorina said in a statement, referring to the merger. She said it seemed appropriate for HP to share what it learned along the way. "We know from our customers that every organization is managing change at some level."
High Voltage
Forrester Research analyst Rob Enderle told the E-Commerce Times that a desire to score more enterprise customer wins was one reason why HP and Compaq combined forces after a bitter proxy and legal battle.
So far, though, while the combined company has scored dozens of outsourcing and services deals since the merger — HP put the number at 200, including a $3 billion Procter & Gamble deal — that success has not necessarily translated into higher hardware, software and services sales to top corporations.
"There are still some places where the expectations haven't been borne out," Enderle said. One reason may be that companies like IBM and Dell have continued to corral business in the same market niche HP wants to target. "There are still a lot of competitive threats to be answered."
HP's effort also is likely to boost the profile of several of its longtime partners, including BEA and Cisco Systems, whose networking solutions power the company's adaptive enterprise architecture.
Rising Tide
The launch comes on the heels of HP's disclosure last week that it had revamped its enterprise unit, shifting key leadership positions.
HP also said it will lean on its Utility Data Center installations in Palo Alto, California, and Bristol, England. Those two sites are connected by HP grid technology, and the company essentially will outsource its own internal IT needs to the locations.
Although other companies have touted the benefits of outsourcing and of linking low-powered computers to boost peformance, "HP is the only vendor with an actual utility computing solution on the market today," said Nick van der Zweep, director of utility computing at HP. "By practicing what we preach, we further demonstrate to customers the benefits [of this technology]."