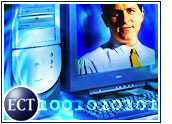 Dell is not a company thatrests on its laurels. It has climbed back on top of the PC sales heap just a few months after the HP-Compaq merger displaced it, and it has extended its brand name into the printer and PDA markets to help drive its bottom line.
In similarly ambitious fashion, Dell promised investors last April that it would double its revenue in the next four to five years. Although sales in enterprise and worldwide markets areexpected to help the company achieve that goal, IDC senior analyst David Daoud told the E-Commerce Times that Dell also needs to reach into other areas.
"When you have a core business that's not growing in general, coupled with a pledge todouble your revenue, you need to look at really anything and everythingwhere there are potential additional revenues," he said.
Printers and PDAs, Oh My!
Toward that goal, Dell recently signed an agreement with Lexmark (NYSE: LXK) to produce printers bearing the Dell name. At first, Dell will resell Lexmarkprinters during the 2002 holiday season. Then, in the second half of 2003,Lexmark will start building Dell-branded inkjet and laser printers andperipherals.
The move will put Dell in competition with dominant printer makerHewlett-Packard, which also sells PCs.
In the PDA arena, news reports and rumor sites have leaked details about the newDell Axim X5 models. The two models — a high-end US$300 unit and a lower-priced $200 one, after rebates — will use Microsoft's Pocket PC2002 operating system.
As in the printer sector, Dell will go head-to-head in the marketplace with HP, which sells the iPaq Pocket PC-based PDA.
Making the Branding Move
Dell's latest marketing news has been snaring a lot of headlines. But it is not a first for the company, which already has been putting its name on product lines related to storage, networking and wireless — in addition to its PCs, of course.
Dell will not self-brand a product segment until demand and the standardsdeveloped in the segment converge. "As Michael [Dell] likes to say, there's alot of technology innovation out there that really doesn't solve any customer problems," Dell director of global brand strategy Joe Malvezzi told the E-Commerce Times. "Certain categories don't grow and aren't profitable. So we're not going to move into anything unless it's profitable."
Malvezzi would not say which product segments the PC giant will enter nextwith its self-branding strategy. It seems clear, though, that any future decisions will hinge on the robustness and maturity of a given category.
According to Daoud, Dell likely will add its name to products only when the move helps its manufacturing and cost strategy. "Where it makes no sense to add their name,they'll use other vendors as well and partner with them," he added.
Will They Follow?
Aberdeen Group chief research officerPeter Kastner told the E-Commerce Times that other PC makers will follow Dell'sself-branding strategy. "It is very easy now for a company to come up with areference design, shop it around Asia, place an order and get it crankedout," Kastner said. He noted that monitor maker Viewsonic and digital-media concern SONICblue are using similar strategies in their attempts to expand market share.
But HP faces a tough battle in competing with Dell, Kastner said, because it cannot focus all its attentions on the rivalry or on imitating Dell's tactics. With the merger complete, it must sort out its various product lines, market strategies and sales issues.
Ultimately, Dell's move to brand its own printers and PDAs should force allof its competitors to adapt to its entry into those markets, plus other ones down the road. Companies that are unable to adjust may find the results "devastating," IDC's Daoud said.