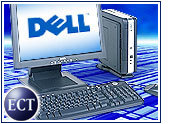 Aiming to capture a market focused on form and size, the number one computer manufacturer has released its smallest desktop PC to date.
Dell CEO and president Michael Dell unveiled the mini-PC to an audience in Tokyo, touting its flexibility and efficiency.
The Optiplex SX260, weighing in at less than eight pounds, is half the size of other Optiplex models. It can fit under a desk horizontally or vertically or can be mounted on the back of its flat-panel monitor.
Customers Rule
"We had a lot of customers that were challenging us to come up with a form factor that was smaller than our existing small-form-factor chassis," Dell spokesperson Cody Pinkston told the E-Commerce Times.
Pinkston explained that customers requested a PC with the benefits of an all-in-one system, plus the serviceability of a modular unit.
Equipped with either an Intel Pentium 4 or an Intel Celeronprocessor, the SX260 — the "S" stands for "small" — has up to 2 GB of DDR-SDRAM system memory and six USB (universal serial bus) ports. It is also outfitted for 802.11b wireless networking.
Although the PC is priced starting at US$599, an average configuration costs about $1,499, according to the company. That average setup includes a 20 GB hard drive, CD-ROM, a 15-inch flat-panel monitor and Microsoft Windows XP.
Not the First
With this latest offering, Dell is following a trend that began in the late 1990s when Apple released the original iMac, which melded the computer screen and its CPU. Dell will be competing in this space with OEM rivals Sony and Gateway, which sell the Vaio and Profile 4 all-in-one desktop PCs, respectively.
Pinkston noted that Dell chose the OptiPlex model because its business customers had expressed the most interest in a space-saving design.
"If you think about the blade server phenomenon, people are realizing part of the cost of having computing facilities are the footprints that they occupy," said Aberdeen Group director of digital consumer technologies Russ Craig.
Craig told the E-Commerce Times that the price differential between smaller and larger PCs, as well as between PCs with flat-panel displays and those with larger CRT monitors, has shrunk to a point at which companies may choose to make the additional investment to save desktop real estate.
Keep on Shrinking
The trend toward small and flexible PCs — one that the Japanese have already experienced because of limited space in homes and offices — is expected to strengthen in the United States, according to Craig.
While Pinkston said Dell has no immediate plans to add additional small PCs to its existing product lines, customers' desire for mini-PCs is not expected to wane.
"I would think that over time you would see desktops continue to shrink and get smaller where it's possible to do so," he noted.
Wireless Mice Next?
To complement smaller PCs and their increased flexibility, Craig said he foresees the addition of a wireless keyboard and wireless mouse as standard features to all PCs in coming months.
In the meantime, such peripherals are slated to be the next hot holiday sales item, according to Craig, who noted that an affordable price tag and the ability to add utility to an existing PC will lure shoppers.