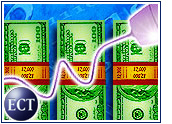 Corporations will replace 100 million personal computers this year and even more in 2005, helping to drive a year-over-year increase in PC sales of about 14 percent in 2004, according to a report from research firm Gartner.
Gartner said the improving economy will lead to widespread replacement of desktop machines now in service, many of which date to the Y2K era. Overall, the research firm expects worldwide shipments of PCs to expand 13.6 percent over 2003, with 186 million units sold worldwide.
At Long Last
Vendors and analysts have been expecting the replacement cycle to pick up steam for some time, and sales data from the first quarter suggest it has finally done so, Gartner principal analyst George Shiffler told the E-Commerce Times.
"The numbers show the cycle is well under way," he said. That trend will provide a strong tailwind for almost all PC vendors in the next 18 months.
Eventually, even companies that are reluctant to absorb the expense of upgrading will find their hands forced as Microsoft phases out support for older versions of its dominant Windows operating system. Several older versions already have had active service discontinued, increasing the likelihood that machines running those versions of the software will be replaced.
"Expiring support will play a significant role in driving PC replacements going forward," Shiffler confirmed. He explained that while cost is still a factor for enterprises, many are using the opportunity to upgrade to mobile machines, suggesting notebook computers will continue to be strong sellers in the future.
Temporary Trend
The replacement cycle will last through 2004 and into 2005, when Gartner expects 140 million machines will be replaced. Beyond that, however, things may start to look bleaker for PC vendors, which have enjoyed a strong run as increased consumer buying has been followed up by better sales to enterprises.
Gartner suggests the replacement cycle will have run its course by the end of 2005, leaving a somewhat stagnant market in its wake. Another replacement cycle is not expected until 2008, leaving PC makers facing the likelihood of slower times before then.
Saving the Day?
Shiffler said there are possible antidotes to the anticipated slowdown. If a killer application that required new, more powerful machines were to debut, for example, it would help revive sales before the next logical upgrade cycle.
While some industry observers had hoped the Tablet PC would fill that role, that device has been largely a disappointment to date. Meanwhile, Microsoft's planned Longhorn operating system upgrade has been pushed back enough times that it may be difficult to count on it creating a surge of computer sales.
Consumers could come to the rescue again, particularly if the push by computer makers to make the PC the center of wired home entertainment systems pays off. Every company from Intel and Microsoft to Dell and HP has made investments or product plays designed to capture a share of that market.
"It's too early to tell whether consumers will embrace the PC for that role," Shiffler said.