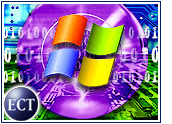 Hoping to light a fire under sales of home PCs, Microsoft has unveiled the newest version of its Windows XP Media Center, which is designed to make it easier to download media and burn CDs and DVDs. The company also has debuted several content partnerships designed to emphasize the range of entertainment uses of the personal computer.
According to Microsoft, digital content providers such as CinemaNow, Movielink and the soon-to-be-revived Napster will help provide streaming and downloadable media, gaming, movie trailers and live news feeds for XP Media Center 2004.
Microsoft senior vice president Will Poole said the convergence of entertainment and computing represents "a wave of new opportunity for the entertainment and software industries." He added that this trend portends a day when personal computers featuring remote controls will be equally likely to be found in living rooms as in offices.
PC on the Couch
Machines running the new media version of XP can be plugged into television sets and operated by remote control. The software will allow users to record and even pause live television programs and to burn downloaded digital media to DVDs and CDs.
The software launch came shortly after Dell and Sony announced plans to have media center machines ready for the holiday buying season. Gateway, Hewlett-Packard, Toshiba and others also have said they will produce media center PCs.
Restarting the Fire
For PC makers and Microsoft alike, the goal is clearly to revive excitement about home computers — something that has been difficult to do of late. While notebook sales have remained relatively strong, driven by WiFi and other wireless technology, most consumers seem to feel today's PCs do not present a compelling reason to buy, IDC analyst Alan Promisel told the E-Commerce Times.
In a different economic environment, the media center PC might ignite a surge in PC sales, he added, but given the current situation, even a modest bump in sales in the fourth quarter would be welcome.
"I think the push by Dell and others to get the price down will help heading into the holiday season," Promisel said. IDC is already predicting a return to growth for the computer industry in 2004, and the media center may help get that off to a strong start. If businesses start to replace older systems as expected in larger numbers, the industry could enjoy a strong run of growing sales. "The consumer can't carry the load on his own, but they can certainly help."
Partners in Time
Part of the software giant's push to lure consumers involves the unveiling of content partners. CinemaNow and Movielink will enable on-demand viewing of thousands of movies. In addition, Microsoft has said that before Christmas, Napster's Media Center application will let users listen to and store up to 500,000 individual songs.
Another partner, WildTangent, will offer online gaming, while Sonic Solutions will provide tools for storing and editing digitized home movies. MSN TV, which will stream news and other programming, and online radio network Live365 round out the partner roster.