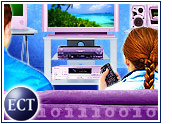 Microsoft plans to announce that the two largest cable television providers in the United States, Time Warner Cable and Comcast, will test its interactive program guide (IPG) software in their set-top boxes in limited markets.
The test marks a milestone in the software giant's push into the home entertainment arena.
IPG software merges program information with interactive features, such as the ability to view movies on demand or make direct purchases. Microsoft CEO Steve Ballmer is slated to unveil the deals at a cable industry event today in Seattle, Washington.
Roll Out the Barrel
In a rare occurrence, Microsoft is playing the role of underdog in the set-top-box software market, where TV Guide Interactive has had a virtual monopoly almost from the outset.
However, the software giant believes it has positioned itself well for what almost all analysts agree will be the inevitable convergence of computers and entertainment devices, Yankee Group analyst Ryan Jones told the E-Commerce Times.
"The PC as a media center is an idea that's already arrived," Jones said. "And Microsoft sees the importance of having a presence on the content-delivery side as well as in the content players, where it's already well represented."
Step by Step
Indeed, Microsoft has made no secret of its desire to enter new markets with its technology, especially the home entertainment arena.
It has equipped its Xbox game console to be an Internet-ready device capable of downloading and playing movies, and it has launched an assault to win over desktop media aficionados with its Windows Media Player 9, discounting the price of the player to convince computer makers to choose it over rival applications.
Hometown Heroes
The new deals are a seemingly logical extension of Microsoft's previous forays into the cable world. Earlier this year, two smaller companies in the Pacific Northwest became the first in the United States to begin using the software.
Comcast plans to conduct its trial in the Seattle area starting this fall and will use Microsoft TV Foundation Edition to help users manage cable content and select video-on-demand movies.
Last week, Microsoft announced earnings that fell short of some analysts' expectations yet still showed strong gains in many market segments, helping to spur a late-week rally in the stock market.