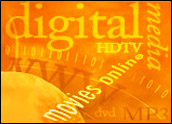 Amazon.com has announced it will use Microsoft's Windows Media 9 Series products to boost its ability to stream music samples to customers from its family of e-tail sites, including its own site, CDnow.com, VirginMega.com and Borders.com.
Amazon vice president Curtis Kopf said the upgrade is aimed at ensuring customers have "the best possible online shopping experience" and that the instant-on capability of the Microsoft product "virtually eliminates waiting times and enables our customers to have instantly gratifying listening experiences."
Win-Win?
Kopf said Loudeye Corp. helped Amazon develop and deploy the specific configuration of Windows Media 9 it is using.
Although the choice of Windows Media Player is a key part of Amazon's long-term strategy of providing a smooth and impressive shopping environment for customers, it may be even more important to Microsoft, which is locked in a fierce battle with RealNetworks and Apple for the upper hand in the streaming media market.
In fact, Microsoft made waves when it released its 9 series products by sharply lowering prices, a move seen by many as an attempt to elbow out rivals by using its deep pockets. to extend its mastery of the desktop and operating platform to the up-and-coming home entertainment niche. At its debut, licensing for Windows Media 9 was about half the price of some comparable competing platforms.
Unite and Conquer
Analysts believe capturing market share now for streaming audio and video may pay off handsomely as broadband gains traction and as more media products, such as legal movie downloads, become available on the Web.
Yankee Group senior analyst Laura DiDio told the E-Commerce Times that Microsoft can afford to discount its products, particularly if the company is confident its product will perform well enough to lock in customers.
"They can always hike the licensing prices later, but lowering the barrier up-front means more people will be willing to try it out," she said. "This is one of the approaches Microsoft is taking to get a share of the consumer electronics market, which will start to bite into PCs before too long."
Wild About Harry
Separately, Amazon said advance sales of the forthcoming Harry Potter book will set a record as what it calls the "largest single e-commerce distribution event."
The company said more than 875,000 copies of "Harry Potter and the Order of the Phoenix" (Book 5 in the bestselling series) have been preordered from Amazon and affiliated sites, including Borders.com, around the world. Those books will be shipped to customer mailboxes starting June 21st. The e-tailer is offering a 40 percent discount off the list price of the book.