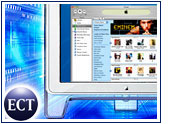 Apple's new iTunes Music Store might be justifiably called Napster's legitimate heir. Unlike competing music services like PressPlay or Rhapsody, the iTunes Store does not entail complicated subscriptions, mandatory fees or inconsistent pricing schemes. Instead, users may choose from a catalog of more than 200,000 songs encompassing selections from all of the "Big 5" record labels — and once a song is purchased for a flat 99-cent fee, it can be burned to a CD or copied to another computer or iPod device with few restrictions.
Chris Bell, product line marketing manager for iTunes, told the E-Commerce Times that by launching a store that employs a very simple model, Apple has created a consumer experience nearly identical to the one consumers historically have used when purchasing music.
"Just as they've been able to buy tapes, CDs and LPs, they can now buy downloads and keep them and do essentially what they want with them for [their own] personal use," Bell said.
Mega Music Future?
Although the iTunes service currently is for Mac users only, Apple has announced plans to port iTunes to Windows by year's end. The Windows version will allow users to access the store and download their purchases directly to iPods, offering the other 95 percent an almost Mac-like experience, at least where digital music is concerned.
By putting itself at the forefront of digital music distribution, Apple could well become a powerhouse in this still-nascent e-commerce space. Moreover, it is not unthinkable that if Apple's service becomes dominant in the digital music marketplace, the company could gain influence over the major record labels — even if it does not choose to purchase a stake in one of them, as was previously rumored. There might even be some entertainment-industry synergy to be had; after all, Apple CEO Steve Jobs also heads animation studio Pixar.
Will iTunes catapult Apple toward some sort of primacy within the music industry, redefining its identity as an entertainment giant rather than a niche computing company? Or is the company just innovating as usual, content to stay within its own niche universe?
Illegal Comparisons
Either way, the iTunes music service seems promising. IDC analyst Susan Kevorkian agreed that iTunes has come the closest of the paid music service providers (MSP) to replicating the user experience of free P2P online music services. However, she said, Apple's service is even better.
"Apple has improved on this model by adding a level of quality control that really is not possible with P2P-based services," such as uniform encoding, Kevorkian told the E-Commerce Times. That, along with flexible usage rules, will motivate consumers to pay a premium for the quality and consistency Apple can provide.
"Whenever you look at the illegal file-sharing services, consumers … don't have a lot of time to wade through 20 of the same file trying to find the one that's high-quality," Apple's Bell said. "But there hasn't been a viable legal alternative" until now.
Fear and Greed
So, how did Apple convince record labels to change their previously restrictive policies and agree to a potentially viable model? Forrester principal analyst Josh Bernoff told the E-Commerce Times that two main forces can motivate companies to change: fear and greed. He said the record labels have found fear to be a much stronger incentive than greed.
"In the last 12 months, the fear level has gone from discomfort to panic," Bernoff noted. "They've gone from [subscription models like] PressPlay and MusicNet to, 'Omigod, unless we offer singles….'"
As a result, this panic has compelled the "Big 5" to remove a lot of the strings that once hobbled online music purchases.
Start of a Trend
In fact, IDC analyst Kevorkian said, Apple's iTunes launch may indicate an intention on the part of the music industry to make more liberal licensing terms and usage rules broadly available to all distributors.
"Similar services [may soon] be offered through Listen.com, Rhapsody or PressPlay as well," she said, adding that offerings similar to Apple's likely will proliferate over the next few years.
Will such new alternatives gain traction? It may be too early to tell.
Bernoff noted that being first to market with a service does not ensure Apple's success, so long as competing services can offer the same sorts of features. Other competitors in the MSP space include Walmart.com, Yahoo, Amazon.com and startup consortium Echo, which includes brick-and-mortar retailers Best Buy and Tower Records.
"Why would the music labels stick with [one distribution service]?" Bernoff said. "It's in their best interest to play multiple [services] off against each other."
Media or Hardware
Bernoff went on to say that whatever happens, Apple's iTunes launch is a groundbreaking event in the digital music marketplace.
Ryan Jones, a media and entertainment strategies analyst with the Yankee Group, told the E-Commerce Times that Apple might well develop into a company for which digital media, rather than computer hardware, is the primary focus.
"Apple lost the race in terms of basic PC functionality a long time ago and as a result has turned to media, where its service has leapfrogged the natural progression," Jones said. "Media is going to possibly be its savior. If that means [Apple] puts its hardware second and its [digital media offerings] first, they'll do it."
Jones added that Mac users, who represent between 2 and 3 percent of all PC users, serve as a great test set of users to help Apple determine which products strike a chord before unleashing them into the general Windows population.
It remains to be seen if Apple's new offering can jump-start the online music business, but even if it can, record labels would be wise to remain wary of Jobs' tendency to reinvent his own company — and entire industries along with it.