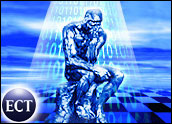 Amid widespread reports that Apple Computer is mulling the purchase of Vivendi Universal's music business, Microsoft may be about to join the fray.
Published reports say Vivendi has approached Microsoft as part of its effort to find a suitable buyer for the Universal music label. Late last week, Apple was rumored to be close to sealing a US$6 billion deal for the business, while Intel was said to have expressed interest as well.
Not a Stretch
Attempts to reach Microsoft and Apple for comment were not immediately successful. Analysts said that while details of any transaction would dictate whether the move was a prudent one, the gap between technology companies and those involved in entertainment has never been smaller.
"If you look at how PCs are sold today, it's all about the listening and viewing experience," Giga Information Group analyst Rob Enderle told the E-Commerce Times.
Although it has made serious inroads into the entertainment PC market only in recent quarters, Microsoft has made major improvements to its software suite for those operations. "It's not that far of a leap to owning a label," he added.
Already at War
In fact, both companies have battled fiercely for the attention of entertainment technology enthusiasts, though Apple still holds only a single-digit share of the home computer market.
Last fall, Microsoft announced it would offer a discounted version of its media player software platform, in an effort to fend off a new release from competitor RealNetworks. And Apple's mobile iPod device has won almost unanimous acclaim.
The Wall Street Journal reported that Microsoft was on a short list of companies approached by Universal executives in hopes of finding a buyer who would keep the unit intact or an investor willing to bankroll a management-led buyout from France-based Vivendi.
Cash and Carry
If that report is true, Microsoft almost certainly was chosen for its deep pockets. At one point last year, the software giant had some $40 billion in cash on its books, sparking speculation that it would embark on a buyout spree to take advantage of the depressed values of technology companies.
Indeed, the company has made some purchases, spending $1.3 billion to buy software integrator Navision last spring, buying PlaceWare earlier this year for $200 million and paying an undisclosed sum for some assets of Connectix.
But Microsoft's willingness to take a multibillion-dollar plunge into an entirely new business may be another matter entirely. The company has been fairly conservative to date, Enderle noted, and has not shown signs of changing its stripes.
A Couple of Billion Short
The Apple rumors, meanwhile, were met with concern by some analysts, who noted that the rumored purchase price is well above the amount of cash Apple has on hand. In addition, the company's stock is not as valuable a commodity as it once was.
Shares of both technology companies were up slightly in early trading Monday.