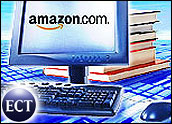 Amazon.com has trimmed its fiscal losses, posted its first non-holiday quarter with more than US$1 billion in sales, and raised its revenue forecast for full-year 2003, providing further grist for investors who seem increasingly optimistic about long-battered Internet stocks.
The company said it brought in $1.084 billion during the first three months of this year, compared with $847 million last year. It also trimmed its loss to $10 million, less than half of the $23 million it lost in the first quarter of 2002.
"We're unlike any other retail platform in that we can reduce prices and improve the customer experience," CFO Tom Szkutak said in a conference call. He credited Amazon's technological improvements with boosting earnings performance, because they help keep down the cost of customer-service improvements, such as personalized Web pages and product recommendations.
"Customers have taken to free shipping. There's been a change in behavior," Szkutak added.
Over There
The Seattle, Washington-based e-tailer also got a boost from overseas sales growth, with revenue from non-U.S. sales rising 68 percent.
At home, too, Amazon continues to ride the growing wave of online shoppers to new heights. According to comScore Networks, U.S. sales during the first two months of the year rose 19 percent, an impressive gain given offline retailers' woes and distractions such as the war with Iraq, said comScore vice president Daniel Hess.
"The overall curve of growth continues, and the big players like Amazon are benefiting as much as anyone," Hess told the E-Commerce Times.
Third-Party Call
The amount of product moved by third-party sales transactions through the Amazon platform also rose, with Amazon's partners shipping 19 percent of all units worldwide, compared with 13 percent last year.
"If our partners can offer our customers a better value, we let them," Szkutak said.
GartnerG2 research director Geri Spieler told the E-Commerce Times that Amazon's crowing about its business model has merit, since it seems to have chosen an approach for earning revenue from partner sales that is far more efficient than the referral model that AOL and Yahoo adopted.
Free shipping, she added, is an example of how Amazon can use its size and reach to outpace smaller sites and gird for battle with eBay, especially on used and person-to-person sales. "Amazon has found that customers like [free shipping]. It brings them to the site, and that's half the battle," she said.
Amazon also pledged to begin easing its debt load, a burden that has in the past led some analysts to express doubt about the company's long-term viability. The e-tailer said it will spent $277 million in May to retire some of its most expensive senior notes.
Blowing Bubbles?
Amazon's positive earnings news came at the tail end of a week that saw a new blush of investor enthusiasm about many Internet stocks. Yahoo and eBay both saw their stock hit new 52-week highs during the week, with eBay shares closing in on the $100 level, at $94.64 after market close Thursday.
Amazon's outlook is likely to add more fuel to that fire. The e-tailer said it will see another billion-dollar sales surge in the second quarter, and that sales for the full year will total $4.7 billion or more, an increase of at least 19 percent over 2002.
Amazon hedged its bets on when it will return to profitability for good, however, emphasizing that unpredictable events make it impossible to predict, for example, how much stock-based compensation will impact the bottom line.