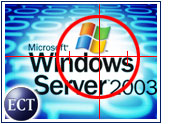 With server software sales booming, Microsoft recorded a 26 percent gain in earnings, to US$1.92 billion, for its recently ended fourth quarter — but the software giant also posted a rare miss of analysts' profit targets.
The company said its profit was dented by nearly $800 million in charges, largely tied to the settlement of the Netscape antitrust civil suit with AOL.
The earnings report also featured an 11 percent jump in revenue, to $8.07 billion from $7.25 billion a year ago, and a relatively upbeat outlook for the rest of 2003.
"In the fourth quarter, sales came in better than expected, reflecting solid corporate and consumer demand for our products," Microsoft CFO John Connors said in a conference call.
He added that the full fiscal year, which began with new licensing rules leading to Microsoft's best-ever first-quarter performance, included double-digit revenue growth across all business segments and total earnings of $32.19 billion.
Not Just Yet
Morningstar.com analyst Joseph Beaulieu told the E-Commerce Times that Microsoft's performance actually appears strong, although investors are likely to be disappointed by the outlook.
"Microsoft is a company that is really likely to be among the first to see the market improve," he said. "The fact that they've offered a fairly subdued forecast is probably going to give some people reason for concern."
Serving Up Growth
Server software sales drove Microsoft's revenue growth, with Windows Server revenue increasing 25 percent and SQL Server revenue up 34 percent. The company also reported strong early adoption of its Windows 2003 Server products, with VeriSign and the U.S. Army among the first to deploy the platform, which was released during the quarter.
Income at MSN also rose sharply, with advertising revenue up 48 percent, mirroring the strength in competitor Yahoo's recent earnings report and possibly pointing to a solid rebound in that beaten-down sector.
While Microsoft's home and entertainment division grew just 8 percent in the quarter, even that rate outpaced expectations, Connors said. The software giant has been laying groundwork for a major assault on home electronics with its Xbox game console and improved media player software for PCs.
For the current quarter, Microsoft predicted revenue will total $7.9 billion to $8.1 billion. Its newly introduced plan to grant stock instead of options to employees also will start to affect the bottom line in coming quarters.
Dividends Can Wait
While the report featured plenty of upbeat proclamations, investors hoping that Microsoft would start to use its nearly $50 billion cash stockpile to begin paying dividends to shareholders came away disappointed.
Connors said in the conference call that while Microsoft is constantly evaluating the dividend issue, it wants to clear up some more of the legal issues hanging over its head before it starts to pay out cash it may need for legal costs or settlements.
Although it settled the Netscape suit, Microsoft still faces private challenges from Sun Microsystems and others, antitrust regulatory proceedings in Europe and an appeal of its U.S. antitrust settlement.