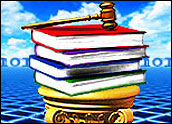 Microsoft has whittled the number of states appealing its antitrust settlement with the U.S. federal government to one, reaching a deal with West Virginia that will require the software giant to pay at least US$21 million in total to consumers, businesses and state agencies.
West Virginia's decision to settle, which came just days before final written arguments are due in the Washington, D.C., appeals court hearing the challenge, leaves Massachusetts as the last state still fighting the settlement reached last November by Microsoft and the U.S. Department of Justice.
Microsoft chief counsel Brad Smith called the move "another important step in helping us build momentum to resolve the antitrust legal issues." He indicated that Microsoft will use the fact that 17 states have signed on to the settlement as leverage to argue against an appeal proceeding further.
Settle Up
Microsoft has been on a settlement tear of late, recently making splashy headlines when it agreed to pay $750 million to AOL, putting to rest a long-simmering private antitrust suit that centered on AOL's Netscape Web browser. Private suits filed by Sun Microsystems and others remain, as do extensive antitrust proceedings in Europe.
Forrester analyst Rob Enderle said Microsoft appears to be making extra efforts to put as many outstanding legal matters to rest as possible.
"Even if the money and time they spend fighting doesn't turn up in its quarterly results, it still is hanging over them," Enderle told the E-Commerce Times. "I'm sure they'd really like to end this year being able to look back and say they ended as many lawsuits and challenges as possible. That will enable them to start looking forward to bigger things again in 2004."
Terms of Endearment
Under terms of the settlement with West Virginia, Microsoft will provide vouchers to consumers, businesses and schools in West Virginia to buy computers and software from vendors of their choosing.
The office of West Virginia Attorney General Darrell McGraw will receive $1 million to fund consumer protection efforts, plus another $625,000 to cover various legal costs, including lawyers' fees racked up during the federal case.
Fighting On
Despite what will no doubt be increased political pressure to avoid a lengthy and costly legal battle on its own, Massachusetts Attorney General Thomas Reilly said he plans to pursue the case through the appeals process.
Massachusetts will have the support of the Computer and Communications Industry Association (CCIA) and the Software Industry Association of America. CCIA president Ed Black told the E-Commerce Times that the appeal needs to be heard.
"This case is too important to the economy and to consumers not to have a full review," Black said. Not only are the associations and the lone state unhappy with the settlement terms, which they argue did not go far enough to stop Microsoft from reprising its monopolistic behavior, but the software giant has not fully complied with the terms of the decree, he said.
"It's clear to us competition will not be restored through this settlement," Black said.
In April, Microsoft eased licensing terms for its Windows server software, a move Black maintains would not have come if not for increased pressure from the DOJ.